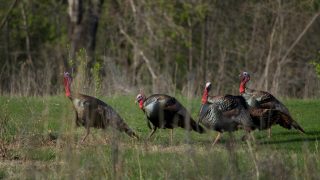 Reward of $5,000 Offered in Case of Wild Turkeys Run Down By Pickup Truck
Reward Offered by Animal Legal Defense Fund for Information Leading to Arrest/Conviction
Contact: media@aldf.org
Ben Lomond, CA — The Animal Legal Defense Fund, the nation's preeminent legal advocacy organization for animals – headquartered in Cotati, California – is offering a $5,000 reward for information leading to the arrest and conviction of the person or people responsible for killing a group of wild turkeys by plowing a motor vehicle into their flock.
On the morning of Saturday, Jan.16, 2018, law enforcement began to receive complaints of a white pickup truck running down turkeys near the intersection of Live Oak and Brookside Avenues in Ben Lomond, California. Witnesses describe the pickup truck as being driven by a young man who may have been accompanied by a young male passenger. According to witnesses, the pickup truck turned onto the road, where a flock of roughly 40 wild turkeys could be seen foraging along the roadway. The truck then accelerated into the flock and sped away, leaving at least three birds dead at the scene, and more injured.
Under California law, any person convicted of maliciously and intentionally wounding an animal can be imprisoned for up to three years in county jail and/or fined $20,000 for felony animal cruelty. In California, it is at the district attorney's discretion whether animal cruelty is charged as a felony.
"The senseless brutality of a person making the conscious decision to crush wild animals with a motor vehicle is alarming and a concern for the entire community," says Stephen Wells, executive director of the Animal Legal Defense Fund. "This act of cruelty not only killed birds at the scene, but likely condemned additional injured birds to slow, painful deaths, while also endangering the humans walking along the road. We commend law enforcement for taking this matter seriously, and we offer our full support."
The Animal Legal Defense Fund urges anyone who has information about this case to come forward. Scientific research shows a clear link between animal cruelty and violence against humans.
If you have information related to this incident, please contact CalTIP, the California Department of Fish and Wildlife's (CDFW) confidential secret witness program, at 888-334-2258 or by texting "CALTIP" followed by a space and your message, to 847411 (tip411). Callers may remain anonymous. CDFW may offer rewards for information leading to successful capture and prosecution of perpetrators.
Related
Animal Legal Defense Fund offers reward for information leading to arrests and convictions in cases of two dolphins' deaths in Escambia and Collier Counties

Reward for information leading to the arrest and conviction of the person or people responsible

Reward Offered by Animal Legal Defense Fund for Information Leading to Arrest/Conviction