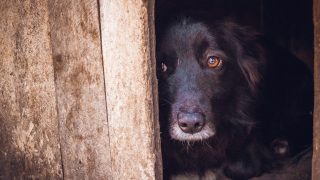 Police Encounters with Dogs May Lead to Deadly Consequences
Animal Legal Defense Fund Hosts Premiere of Award Winning Documentary Chronicling Preventable Police Shootings of Pet Dogs
For immediate release:
Contact:
media@aldf.org
LOS ANGELES — On Thursday, Sept. 22, from 6:30–9:30 p.m. the Animal Legal Defense Fund will host the premiere of Of Dogs and Men, a film focused on the tragic epidemic of police officers shooting pet dogs in the line of duty. According to the U.S. Department of Justice statistics, more than 10,000 pet dogs are shot and killed by police officers every year. Every 98 minutes a pet dog is shot and killed. Yet, no officer has ever been killed in the line of duty by a dog.
The Animal Legal Defense Fund partnered with Ozymandias Entertainment to produce Of Dogs and Men, which follows the people fighting to change this grim statistic, showing the tragedy of loss and the struggle of changing a legal system in which police officers are an integral part. The number of incidents of officers using lethal force against family pets is growing, from SWAT raids to simple calls and even visits to wrong addresses. The reality is shocking, and Of Dogs and Men addresses the problem head on.
The Animal Legal Defense Fund and Ozymandias Entertainment released Of Dogs and Men to highlight America's need to keep police officers and dogs safe. The documentary offers comprehensive solutions to turn the trend around through proper training for law enforcement officers. Postal carriers routinely encounter dogs in their daily work, and remain safe because of their training in non-lethal approaches.
The film makes a strong case for mandatory training for police officers—and our local governments should be funding this training.
The premiere screening will feature a Q&A session after the film with the film's director Michael Ozias, producer Patrick Reasonover and Animal Legal Defense Fund attorney Diane Balkin discussing how we can change the system to better protect police officers and our pets.
"We want police officers to be safe and able to do their jobs effectively, and there are a number of techniques and alternatives to using a gun in an encounter with a dog," said Animal Legal Defense Fund Executive Director Stephen Wells. "The law needs to mandate that officers receive the training they need to feel comfortable interacting with dogs in the field—without resorting to lethal force."
Related
Goldie's Act would ensure the USDA does its job to protect dogs in federally licensed puppy mills

Alternative sentencing program in Fulton County, Georgia pairs shelter dogs with criminal defendants to offer both training and a second chance

Actress Christian Serratos narrates the Animal Legal Defense Fund film advocating for an end to puppy mills