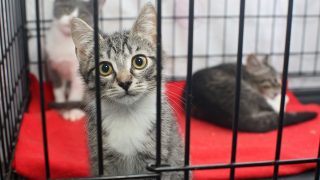 Oregon: Urge Lawmakers to Support Animal Cruelty Special Prosecutor Position
This action is for Oregon residents only.
Oregon has been a nationwide leader for the past 10 years by pioneering the role of special animal cruelty prosecutor to help protect animals and bring justice to cruelty victims across the state. The position of Animal Cruelty Deputy District Attorney (AC-DDA) is necessary because animal cruelty cases pose unique challenges. And this role has provided incalculable value to Oregon residents and animals in that time!
It's vital that Oregon lawmakers make this program permanent. We don't want to stop the decade of progress the special prosecutor position has made! Contact members of the Joint Ways & Means Committee today and encourage them to support S.B. 696!
Enter your information below and click "Send Message" to have your say. Remember, these messages are more impactful if they are personalized!
Related
First ruling pertaining to recently enacted Big Cat Public Safety Act

Bill will reduce the risk of zoonotic disease transmission by phasing out mink farming and help operators transition out of the industry

Third denial to review first state-wide ban, starting in 2014