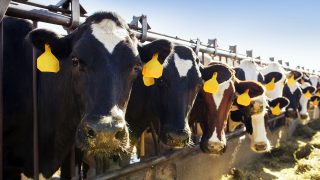 Oregon: Stop Mega-Dairies from Exploiting the State's Water Resources!
This action is for Oregon residents only.
Oregon's leaders are failing to protect animals, Oregon's natural resources, and residents from harmful mega-dairies. Oregon's rivers, streams, and aquifers are already strained by our demands and mega-dairies — like the proposed 30,000 cow Easterday Farms on the former disastrous Lost Valley mega-dairy site — are sucking nearby aquifers dry.
Under state law, mega-dairies have unlimited access to water without a water use permit under a "stockwatering" exemption if they use the water to water their cows. This loophole was created for an era when mega-dairies — and their massive water use — were unimaginable. The Animal Legal Defense Fund is part of a broad coalition petitioning the Oregon Water Resources Commission to close the loophole and restrict withdrawals for stockwatering from eastern Oregon's strained aquifers.
This rule change would restrict new mega-dairies and only allow them to use up to 5,000 gallons of water per day without a permit from "critical groundwater areas," areas that are already struggling with declining water supply due to over-extraction.
The Oregon Water Resources Commission is accepting comments on this issue until November 12th. Send a brief message to the commission urging them the close the stockwatering loophole in Oregon law and halt mega-dairies' unlimited access to our water.
Please edit the message before sending to personalize it. Unique comments carry more weight!
Join the Animal Legal Defense Fund's email list to stay up to date on lawsuits, legislation, and regulations affecting animals.
Sign Up Now
Related
The Animal Legal Defense Fund released the second in a series of white papers — COVID-19 and Factory Farming —providing policy recommendations to address industrial animal agriculture's role in our heightened risk for zoonotic diseases outbreaks, like COVID-19, and its potential to be the source of the next global pandemic.

Video shows malicious acts of violence toward cows, gross neglect of calves

Dairy Farmers of America supplier caught on video, prompting lawsuit