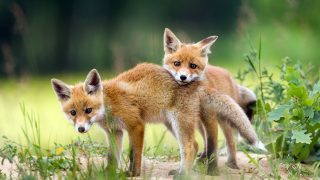 New Jersey: Urge Your Legislators to Ban Cruel Killing Contests
This action is for New Jersey residents only.
Killing contests are cruel and inhumane. Participants are awarded money and prizes for various categories for kills, usually for the largest, smallest, or greatest number of animals killed. Promoted as a means to reduce native wildlife populations, numerous studies prove that killing contests are an ineffective and misguided approach to controlling species' populations.
Thankfully, S.1176 / A.1365, championed by Senator Nilsa Cruz-Perez and Assembly Member Daniel Benson, would prohibit harassing or killing certain wildlife at competitive events and is now being considered by the New Jersey Legislature.
The New Jersey bill is part of a growing national movement to prohibit wildlife killing contests. Seven states have already enacted bans — Arizona, California, Colorado, Massachusetts, New Mexico, Vermont, and most recently — Washington.
Such contests have come under increasing scrutiny as especially egregious instances of wanton violence against animals occurs. Not only is this unnecessary cruelty — it serves no wildlife management purpose.
Allowing wildlife killing contests to continue violates the public trust doctrine, in which a state's wildlife is held in the public trust and managed for the benefit of all its citizens.
Your legislators need to hear from you. Please email your state Senator and two state Assembly Members.
Join the Animal Legal Defense Fund's email list to stay up to date on lawsuits, legislation, and regulations affecting animals.
Sign Up Now
Related
International Fur Trade Federation's amended complaints dismissed in decisive victory for animals

Representatives Mike Quigley (D-IL) and Brian Fitzpatrick (R-PA) reintroduced the Big Cat Public Safety Act in the U.S. House of Representatives. The House of Representatives voted 272 to 114 to pass the same bill in December.

For years, captive wild animals have suffered in the care of traveling zoo operator Robert Sawmiller. On December 9, 2020 two wolves and a Labrador named Fancy were rescued and transported to sanctuary through legal action brought by the Animal Legal Defense Fund.