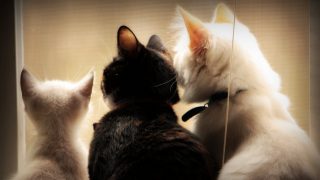 New Arizona Law Distinguishes Companion Animals From Other Tenant Property
By Nicole Pallotta, Senior Policy Program Manager
On April 1, 2021, Governor Doug Ducey signed House Bill 2507, also known as "Matthew's Law," which allows landlords to enter a rental unit to retrieve companion animals in the event a tenant dies or becomes incapacitated. It also requires landlords to request an emergency contact for tenants who live with companion animals.
Matthew's Law is named after Matthew Meisner, who was tragically murdered in the summer of 2020 while walking home. Matthew's family and friends were unable to retrieve his three cats from his apartment because his landlord — in believing he was complying with Arizona law, which classifies animals as personal property — would not provide access until 15 days had passed. At the time, there was no exception in the law for animals, and Matthew's cats went without food and water for several days.
A relative who tried to rescue Matthew's cats from his apartment worked with legislators to pass HB2507 to remove this barrier to saving animals trapped in the wake of their guardian's sudden death — a barrier stemming directly from ambiguity over animals' legal status. In many cases, the law still fails to clearly differentiate animals from inanimate property.
HB2507 amends the Arizona Residential Landlord and Tenant Act to allow landlords to remove the companion animals of tenants who are deceased or incapacitated and whose emergency contacts do not respond to the landlord's request to retrieve the animals. In addition, the Act now requires — rather than permits — landlords to request an emergency contact from a tenant with a companion animal, amending the previous section that stated a landlord "may" request this information for purposes of property retrieval and storage (the amended text is italicized below):
Notwithstanding section 14-3911, the landlord may request and the tenant may provide and routinely update the name and contact information of a person who is authorized by the tenant to enter the tenant's dwelling unit to retrieve and store the tenant's property if the tenant dies, and for a tenant with a pet, the landlord shall request the name and contact information of a person who is authorized by the tenant to enter the dwelling unit to retrieve the tenant's pet if the tenant dies.
If the emergency contact does not respond within one day — as opposed to ten days for "all other property" — the amendment directs the landlord to "remove the pet to an animal shelter or boarding facility." Alternately, the amendment authorizes the landlord to release an animal to a relative of the deceased or incapacitated tenant.
Throughout the Act, the amended language of HB 2507 explicitly differentiates between "personal property" and "pet" by listing them separately, whereas previously the only category referenced was "personal property." That this clarification was needed highlights one of the many unintended consequences that can arise when living beings are placed in the same legal category as inanimate objects. Matthew's Law will ensure this situation does not happen again by clarifying that animals are more than mere property under the law, and must be treated differently.
Further Reading:
Join the Animal Legal Defense Fund's email list to stay up to date on lawsuits, legislation, and regulations affecting animals.
Sign Up Now
Related
Huston narrates the Animal Legal Defense Fund film demonstrating the impact legal advocates can have on behalf of animal cruelty victims

A Courtroom Animal Advocate Program (CAAP) bill, S.2868/A.4533, which would allow law students and volunteer lawyers to advocate for animal victims in cruelty criminal cases, unanimously passed the New Jersey Senate. The bill is sponsored by Senator Nicholas Scutari and Assemblyman Raj Mukherji and endorsed by the Animal Legal Defense Fund.

Breeding operation, Adorable Stars, sells parasite-ridden kittens suffering from severe and fatal ailments