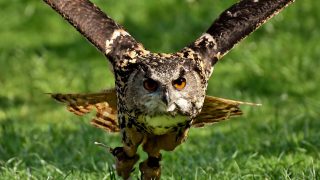 Monte Cooper, Karen Johnson-McKewan, Derek Knerr, and Scott Lindlaw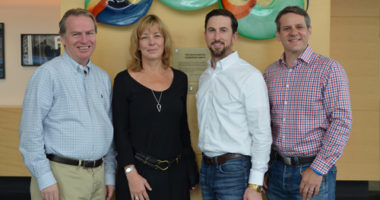 The internationally renowned law firm Orrick, Herrington & Sutcliffe (the oldest law firm in San Francisco, with more than 1000 attorneys world-wide) has been a longtime supporter of the Animal Legal Defense Fund. Four intellectual property attorneys from Orrick's San Francisco and Silicon Valley offices—Monte Cooper, Karen Johnson-McKewan, Derek Knerr, and Scott Lindlaw—are representing ALDF pro bono in an appeal to the Ninth Circuit Court of Appeals. That appeal challenges a ruling upholding a decision by the Food and Drug Administration (FDA) to withhold information ALDF requested under the Freedom of Information Act (FOIA) regarding hen population densities at several "factory" egg production farms in Texas.
The FDA regularly conducts inspections as part of its Congressional mandate to determine whether the frequently unsanitary and inhumane conditions for hens used by the egg industry at factory farms might lead to national outbreaks of Salmonella. The FOIA issues raised in the appeal are important because they may compel the government to reveal the inhumane and unsanitary conditions at these egg production farms, but they also raise important questions about how courts should treat FOIA requests related to public health issues. For example, in 2010, egg producers recalled an astonishing 380 million eggs from supermarket shelves due to a Salmonella outbreak that sickened hundreds of people across the country. Yet the public remains largely unaware of how and why the conditions at the egg-producing factory farms contribute to such a dangerous introduction of a pathogen into their food supply.
The four Orrick attorneys have a wide variety of backgrounds and interests in animal protection concerns and FOIA issues that led all of them to contribute significant hours of their time to be members of this pro bono team.

Karen Johnson-McKewan
Partner Karen Johnson-McKewan, who is one of Orrick's most well-known and successful intellectual property and litigation attorneys, served as advisor to the team. Karen regularly serves as first chair trial counsel for companies like Oracle, VMware, and Alameda County in high profile "bet-the-company" cases, many of which garner national press. She is also a tireless advocate for animal rights, having served as a board member for The Marine Mammal Center for 13 years, and she has handled several other pro bono matters (including on behalf of ALDF) involving animal protection and environmental issues. She has had feline and canine family members her entire life.
Monte Cooper
Of counsel intellectual property attorney Monte Cooper, who served as lead counsel in preparing the briefs, has an extensive background in federal appellate litigation, having previously represented companies like Facebook in high profile appeals involving Internet and intellectual property-related matters. He has previously served as counsel of record for several other pro bono clients in arguments directed to the United States Supreme Court. Like Karen, Monte is a strong advocate for animal rights, which comes from being raised by in an animal loving family in Colorado, where his parents were regular donors to wolf recovery programs.
Derek Knerr and Scott Lindlaw
Derek Knerr and Scott Lindlaw are both associates in the intellectual property department and did the "heavy lifting" in drafting the briefs. Each is a seasoned veteran of high profile litigation. Derek has worked with Karen on several of her most nationally discussed cases and is also a longtime dog owner. Scott, in addition to being a pet owner who frequently brings his dog to work at Orrick, previously was a White House correspondent and thus had a keen independent interest in the FOIA issues raised in the appeal.
All four attorneys regularly contribute to pro bono causes like the appeal on behalf of ALDF. They recognize that the individuals and advocacy groups who raise legal issues may have the most profound impact on society. Along with animals themselves, these also are the parties who often have the greatest need to ensure their rights are respected by the courts. All four Orrick attorneys hope to volunteer to assist ALDF to protect the lives and advance the interests of animals in the future.
The Animal Legal Defense Fund would never be able to use the law to advance the interests of animals without the pro bono support of legal professionals nationwide. In this continuing series of spotlights, ALDF salutes attorneys Karen Johnson-McKewan, Monte Cooper, Derek Knerr, and Scott Lindlaw.
Related
Public interest coalition celebrates another win against unconstitutional statute barring undercover investigations at factory farms

Edie Falco narrates the Animal Legal Defense Fund film demanding transparency in factory farming

D.C. Court of Appeals rules Animal Legal Defense Fund can pursue its claims