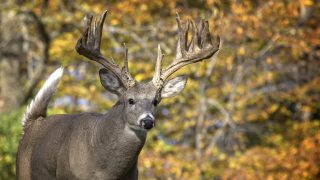 Massachusetts: Help Stop Illegal Hunting
This action is for Massachusetts residents only.
Poaching—the illegal killing or harming of wildlife—is a serious problem in the Commonwealth. There are nearly 1,500 known violations of Massachusetts hunting, trapping, and fishing laws each year. These violations include killing protected species and killing animals out of season. The animal victims of poaching, often injured or orphaned, turn up too often at Massachusetts wildlife rehabilitation centers.
Pending legislation would modernize penalties for illegal hunting and allow Massachusetts to join the Interstate Wildlife Violator Compact, ending the Commonwealth's status as a safe-haven for convicted poachers whose hunting, trapping, or fishing licenses have been suspended in any or all of the other 48 Compact member states.
Help protect Massachusetts wildlife from poaching. Please ask your state legislators to co-sponsor An Act Further Regulating the Enforcement of Illegal Hunting Practices (H.904/S.587).
Related
The U.S. Department of Agriculture (USDA) has cancelled notorious wildlife exhibitor and trafficker Robert Sawmiller's license to engage in exhibition, breeding and selling activities regulated by the Animal Welfare Act (AWA) following the Animal Legal Defense Fund's lawsuit against the agency for initially renewing the license. 

International Fur Trade Federation's amended complaints dismissed in decisive victory for animals

The court's decision ensures Special Memories Zoo is permanently closed following Animal Legal Defense Fund lawsuit