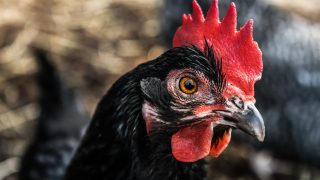 Joint Comment Letter Opposes National Chicken Council Petition
The Animal Legal Defense Fund joined several other animal protection groups to submit a letter to the United States Department of Agriculture opposing a petition from the chicken industry requesting that chicken slaughter plants be allowed to slaughter chickens at higher line speeds. Currently, some chicken slaughter plants are already allowed to slaughter chickens at very high speeds of more than 140 or 175 birds per minute. The National Chicken Council petition requests that all slaughter plants be allowed to seek a "waiver" to run at any line speed they desire.
It's common sense that when an action is performed more quickly, the rate of mistakes increases. Granting the petition would endanger worker safety, threaten food safety, and increase the number of birds who are inhumanely handled or die by means other than slaughter. When chickens move through the line too quickly, some of the chickens may miss the stunner and throat cutter. As a result, these chickens enter scalding tanks and are boiled alive. A 2015 undercover investigation inside a Tyson Foods, Inc. slaughter plant by the Animal Legal Defense Fund revealed that extremely high line speeds contributed to the suffocation of chickens caused by equipment malfunctions, endangered Tyson Foods employees, and led workers to mistakenly hang dead birds on shackles for slaughter and processing.
Granting the petition would negatively impact billions of chickens and turkeys.
Related
Animal Legal Defense Fund petition for rulemaking spurs reporting improvements: Forms will be revised to ensure AWA licensees maintain complete records of all animal deaths.

Graphic images of wound are posted on Tik-Tok by an employee of Gator Park — a facility owned and operated by Jason Clay.

The lawsuit alleges federally endangered and threatened animals such as the tigers, lions, and ring-tailed lemurs are receiving inadequate care at Tiger Creek