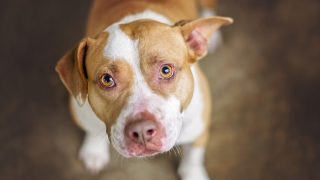 Guam Prosecutes First Felony Animal Neglect Case
Written by Nicole Pallotta, Academic Outreach Manager
When Guam enacted a felony animal cruelty law in 2011, the U.S. territory moved up 18 places on the Animal Legal Defense Fund's Animal Protection Laws State Rankings, showing the second most improvement of U.S. states and territories that year[1].
In 2018, a grand jury in Guam indicted Melchor Antolin for what is believed to be the island's first charges of felony animal cruelty arising from willful neglect. The case involves a pit bull named Thor. Thor was found by animal control authorities chained up and with a 15-pound tumor the size of a basketball in his leg. Thor's untreated medical condition was so severe that he had to be euthanized.
Although Guam's felony law has been utilized in cases of physical violence toward animals, this is believed to be the first time the law was applied due to neglect, or a failure to provide minimum care. Antolin's trial is scheduled for April 2019.
According to Cyrus Luhr of the nonprofit Guam Animals in Need: "This is a very important case for Guam. If you purposefully hurt an animal, whether through physical violence or neglect, the law is clear — animal cruelty is animal cruelty."
Related
Ask your state legislators to provide an opportunity for dogs and cats used in research to find loving homes once their time in a research laboratory has come to an end by supporting An Act Protecting Research Animals.

Animal Legal Defense Fund and CPM seek to hold Kenney family accountable for defrauding customers and harming dogs in violation of California law

Ask your state legislators to support a bill that would prohibit people convicted of animal abuse from possessing animals for at least five years after their release from custody.
Help animals win the legal protections they so desperately need and deserve, and ensure they have an advocate in courtrooms and legislatures across the country.
Take Action Now