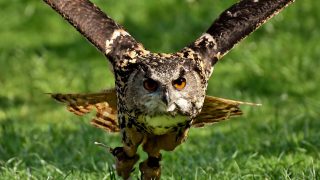 The Animal Legal Defense Fund would never be able to use the law to advance the interests of animals without the support of legal professionals nationwide. In this first of a series of spotlights, ALDF's Animal Law Program salutes attorney Gabriela Sandoval.
For Gabriela Sandoval, nothing is more important than helping those in need. And as part of the Animal Legal Defense Fund's volunteer attorney network, she is putting her skills to work. This Denver-based attorney recently helped draft an amicus curiae brief the Animal Legal Defense Fund filed on a companion animal custody case, for example.
Even in her teens, Gabriela knew that her life would involve fighting on behalf of the exploited. Deep in Maine's North Woods as part of an Outward Bound wilderness program, she realized that the flora and fauna around her deserved protection, and her career path was set soon afterward as a Colorado State University freshman. Attending environmental ethics, philosophy, and politics courses, Gabriela knew she would become a legal advocate representing the interests of non-human animals and the environment. "I'm still not exactly sure how I didn't feel it or see it before, but when I finally came to face the reality of the exploitation and abusive practices in which we as humans were engaging with regard to animals, I was filled with motivation to help protect them," she says. "Not necessarily because I loved this animal or that animal – that wasn't the point. The point was that I felt there was an opportunity to protect those who needed the most protection and who endured the greatest suffering."
For Gabriela, helping to alleviate this suffering meant making more humane, conscientious choices – and studying law. "My drive to enforce the animal protection laws, push for new progressive animal legislation, and engage in animal advocacy is the reason I went to law school," she says. "During law school, what I already knew had been reconfirmed. I wanted to pursue a career working toward progressive legal rights for animals."
Children, too, benefit from Gabriela's legal expertise, and she sees a distinct parallel between children's rights and animal rights. "Historically, children were viewed as property, without any rights of their own," she explains, noting that the same is true of non-human animals. "Animals have individual needs. They too have interests. By virtue of the fact that they can suffer, they too deserve protection and representation. Like children, animals are easily victims of abuse and exploitation. Too often the abuse goes unnoticed because of the simple fact that they can't call out for help. Abuse goes unnoticed because people are misled and misinformed."
"ALDF is very fortunate to have the support of and opportunity to work with legal professionals like Gabriela," says Pamela Hart, director of the Animal Law Program. "The time and expertise she and hundreds of volunteer attorney members contribute make it possible for ALDF to further our mission of protecting the lives and advancing the interest of animals through the legal system. Their efforts have a direct impact on animals, whose lives we are diligently trying to protect."
Gabriela regards her contributions as essential to who she is. "The way I see it, if I feel strongly about something, I need to try to do something about it," she says. "If I don't, I fear that I only become part of the problem. While the work I do with children and on behalf animals may be the most difficult and often emotionally draining, it's also, interesting, complicated, and most rewarding."
You can learn more about Gabriela Sandoval and her practice, the Rocky Mountain Legal Center for Child & Animal Welfare, by visiting www.childandanimalaw.com.
Related
The U.S. District Court for the Central District of California dismissed the industry's constitutional challenge in its entirety, and forbade the plaintiffs from trying to renew those claims.

The Animal Legal Defense Fund filed a lawsuit against the U.S. Department of Agriculture (USDA) for issuing a final rule allowing pig slaughterhouses nationwide to police themselves and kill pigs at very high line speeds.

Ask your state legislators to provide an opportunity for dogs and cats used in research to find loving homes once their time in a research laboratory has come to an end by supporting An Act Protecting Research Animals.