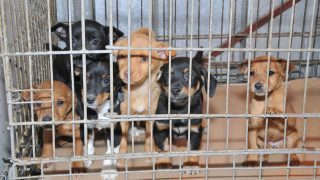 Florida: Say No to Puppy Mills
THIS ACTION IS CLOSED.
THIS ACTION IS CLOSED.
An amendment that would prohibit Florida cities and counties from banning the sale of puppies in pet stores is being considered by the Florida House of Representatives Commerce Committee.
Puppy mills prioritize profit over the well-being of dogs. Dogs are kept in crowded, filthy conditions, and are often denied veterinary care. Mother "breeder" dogs give birth to multiple litters per year and are abandoned or killed when no longer deemed useful to the puppy mill operators.
Dozens of Florida communities already have retail pet sale bans on the books – laws that prohibit the sale of companion animals in pet stores and encourage stores to offer adoptable animals from rescues and animal shelters instead. But language added to HB 1409, a bill regulating puppy mills, would overturn these laws.
Related
The Animal Legal Defense Fund announced that a settlement agreement has been reached with the Animal Kingdom pet store in a high-profile lawsuit over a puppy laundering scheme to unlawfully circumvent the California "retail pet sale ban" — a law that bans the sale of dogs from commercial breeders, commonly called puppy mills.

This week, the Superior Court of California in Solano County found the owner of California Carolina Dogs, a puppy mill located in Vallejo, liable for violating the Polanco-Lockyer Pet Breeder Warranty Act following a lawsuit filed by the Animal Legal Defense Fund on behalf of Caru SPCA.

As shelter-in-place orders are given across the nation, there is a growing concern that family violence will be on the rise.
Join the Animal Legal Defense Fund's email list to stay up to date on lawsuits, legislation, and regulations affecting animals.
Sign Up Now