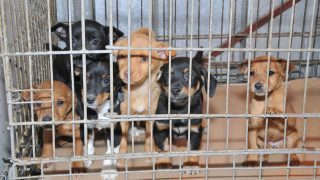 Florida: Say No to Puppy Mills
THIS ACTION IS CLOSED.
THIS ACTION IS CLOSED.
An amendment that would prohibit Florida cities and counties from banning the sale of puppies in pet stores is being considered by the Florida House of Representatives Commerce Committee.
Puppy mills prioritize profit over the well-being of dogs. Dogs are kept in crowded, filthy conditions, and are often denied veterinary care. Mother "breeder" dogs give birth to multiple litters per year and are abandoned or killed when no longer deemed useful to the puppy mill operators.
Dozens of Florida communities already have retail pet sale bans on the books – laws that prohibit the sale of companion animals in pet stores and encourage stores to offer adoptable animals from rescues and animal shelters instead. But language added to HB 1409, a bill regulating puppy mills, would overturn these laws.
Related
Ask your state legislators to support a bill that would prohibit people convicted of animal abuse from possessing animals for at least five years after their release from custody.

Animal protection coalition asks court to invalidate California Fish and Game Commission regulation for violating the California Environmental Quality Act.

Ask your state legislators to provide an opportunity for dogs and cats used in research to find loving homes once their time in a research laboratory has come to an end by supporting An Act Protecting Research Animals.
Join the Animal Legal Defense Fund's email list to stay up to date on lawsuits, legislation, and regulations affecting animals.
Sign Up Now