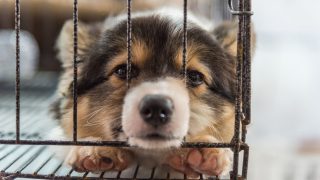 Federal Appeals Court to Hear Arguments in Lawsuit Concerning USDA's Secrecy on Animal Welfare Records
Animal protection coalition fights to restore database of animal welfare records
Contact: media@aldf.org
San Francisco, CA – On Monday, Dec. 17, the Ninth Circuit Court of Appeals in San Francisco will hear oral arguments from the Animal Legal Defense Fund, the nation's preeminent legal advocacy organization for animals, in the lawsuit against the United States Department of Agriculture (USDA) for removing tens of thousands of animal welfare records from the agency's website.
When: Monday, December 17, 9 a.m.
Where: Courtroom 2, 3rd Floor Room 330, James R. Browning United States Court of Appeals Building, 95 Seventh Street San Francisco, CA 94103
Online: Check the Ninth Circuit Court of Appeals website for live streaming of the argument.
The Animal Legal Defense Fund leads a coalition — including Stop Animal Exploitation NOW!, Companion Animal Protection Society and Animal Folks — that filed the lawsuit in February 2017.
The lawsuit argues that the USDA's decision to remove the records previously posted in the Animal and Plant Health Inspection Service (APHIS) database violates both the Freedom of Information Act (FOIA) and the Administrative Procedure Act (APA).
The removed documents include records relating to violations of the Animal Welfare Act (AWA) at thousands of research laboratories, roadside zoos and puppy mills across the country.
The coalition used these records to advocate for stronger animal protection policies, confront the USDA over inadequate regulation of substandard facilities, supply evidence for law enforcement action and build legal cases against egregious violators.
FOIA requires that agencies make available important types of documents, including final opinions, orders, and frequently requested records in a public reading room.
Reading rooms — formerly actual rooms with reading material filed for review — have been replaced by "electronic" reading rooms, in the form of website and document databases, like the APHIS database. The coalition's appeal argues that FOIA authorizes courts to order agencies to comply with the reading room requirement.
"The public must have access to the USDA's animal welfare records. This transparency is not only critically important for protecting animals, but is required by the law and necessary to hold government agencies accountable," says Animal Legal Defense Fund Executive Director Stephen Wells. "We look forward to our upcoming hearing and to these records being restored."
The organizations are represented pro bono by Margaret Kwoka, Associate Professor at the University of Denver Sturm College of Law.
Related
Proposed rule would maintain an unnecessarily complicated and confusing process for children to get access to plant-based milk

Recommendations aim to decrease risk of zoonotic disease spread, animal escapes and attacks, and psychological and physical harm to the animals

Animal Legal Defense Fund petition for rulemaking spurs reporting improvements: Forms will be revised to ensure AWA licensees maintain complete records of all animal deaths.