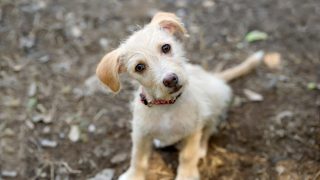 Eugene, Oregon, Passes Ordinance Banning Dogs Downtown
On March 8, 2017, the Eugene City Council passed a trial ordinance banning dogs from the city's downtown area, purportedly to improve public safety. The ban does not apply to service dogs, dogs who belong to people living or working in the area, dogs used by law enforcement, and dogs in motor vehicles. The ordinance also exempts the space in front of a homeless services facility that provides free meals. The service dog exemption does not include dogs who offer emotional support or comfort. The ban takes effect in April and will expire on Nov. 1, 2017, unless the council votes to extend it.
The ban passed by a 6-2 vote with those in favor citing increasing complaints about encounters with aggressive dogs downtown. Last summer, a city employee and her dog were attacked by another dog in the downtown area, injuring the employee and killing her dog. However, dissenting councilors criticized the ban as an indirect attempt to manage Eugene's homeless population, deter loitering, and displace people deemed undesirable, who often are accompanied by dogs, from downtown spaces. Critics have called the ban impossible to enforce and discriminatory against homeless people. A person found in violation of the ordinance could be fined up to $250.
Besides the major practical difficulties with identifying those dogs who are subject to the ban, the ban leaves homeless individuals who have dogs with few options other than being forced to abandon their animal or simply relocate to another neighborhood without a dog ban. The exception for dogs in vehicles may also encourage visitors and other non-residents to leave their dogs in cars in warmer months, when temperatures inside a vehicle can soar and turn deadly for animals and children within minutes.
Although some jurisdictions have passed breed-specific laws that either prohibit certain breeds outright (typically "pit bull type" dogs) or impose special requirements and restrictions on owners of those breeds, bans affecting all dog types are rare. This is the second dog ban that has been passed in the liberal college city of Eugene. The new ordinance is modeled after an identical dog ban that has been in effect for 20 years on the commercial strip next to the University of Oregon. The relevant section of the current city code (not including this new ban) states:
…no dog owner shall permit a dog to be on Alder Street, including the sidewalks thereof, between and including the southern sidewalk of East 12th Avenue and the northern sidewalk of East 14th Avenue, nor on East 13th Avenue, including the sidewalks thereof, between and including the eastern sidewalk of Pearl Street and the eastern sidewalk of Kincaid Street…this section does not apply to a dog owner who maintains a lawful residence within the restricted area, to a dog assisting law enforcement personnel, to a dog assisting an individual with a disability, or to a dog inside a motorized vehicle.
Sweeping ordinances that prohibit non-resident dogs from entire neighborhoods are out of step with current social trends that recognize the importance of companion animals in many people's lives. As such, legislative and policy measures that make social spaces more, not less, accommodating to responsible dog guardians have been on the rise. For example, the Department of the Interior recently launched a pilot program at its Washington, D.C. headquarters allowing employees to bring their dog to work on select days, making it the first federal agency to explore implementing a dog-friendly office policy. And in January 2017, with a unique and groundbreaking amendment to its divorce law, Alaska became the first state to require that courts consider the well-being of an animal when deciding his or her legal ownership in divorce and dissolution proceedings. Because animals are defined as property under the law, this statute represents significant progress for companion animals in the legal system, reflecting their value as family. Unfortunately, overbroad and irrational anti-dog legislation like Eugene's new ordinance is a step in the wrong direction.
Aggressive, unruly, and potentially dangerous dogs with negligent or inattentive handlers are undoubtedly a serious public safety issue that must be addressed, and everyone has the right to feel safe while using public spaces. However, fairness-based measures rooted in logic that do not target all dogs – for example, enforcement of existing leash laws, which cities like Eugene already have on the books – could more effectively and equitably accomplish this goal. Enacting sweeping prohibitions on non-resident dogs in public spaces, including those who are well-behaved and accompanied by responsible guardians, seems misguided.
Finally, to the extent that this ordinance is aimed at homeless persons who have aggressive dogs, it is worth noting that irresponsible dog guardianship is not limited to the houseless, and it would be a mistake to create policy based on a faulty generalization that homeless individuals cannot be loving and responsible caretakers to their animals. However, they do have more obstacles in this regard. Anti-dog policies in general, including those in rental housing, shelters and public transit, make it more difficult for socio-economically disadvantaged individuals to responsibly care for a companion animal. Love should never be a liability, but for people facing tough times, devotion and commitment to their companion animal can be a hindrance to finding shelter and rental housing because much of it, like Eugene's new ordinance, prohibits dogs.
Further Reading:
Related
Barkworks has closed four of the stores, and its remaining two stores will likely close by January 1, 2019, when California's law banning the sale of dogs from commercial breeders comes into effect.

Pet store lobbyists are pressuring state legislatures to pass preemption laws blocking cities' and counties' right to adopt retail pet sale bans.

Florida residents: Show your support for the Greyhound Protection Amendment, a constitutional amendment that would end the inhumane practice of greyhound racing in Florida by 2020.