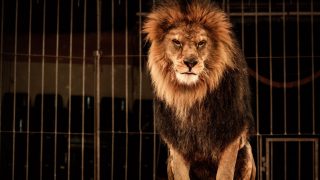 Despite Repeat Animal Welfare Violations, Dirk Arthur Show Proceeding at Westgate Las Vegas Resort & Casino
Animal Legal Defense Fund and Local Celebrity, Stephen Sorrentino, Offer Help to End Use of Big Cats in Vegas Magic Act
For immediate release:
Contact:
media@aldf.org
Las Vegas – This week, the national nonprofit, Animal Legal Defense Fund (ALDF) and Las Vegas-based actor, comedian, and producer Stephen Sorrentino sent a letter to Red Mercury Entertainment requesting a meeting to discuss their illusionist, Dirk Arthur's show entitled Wild Magic. Sorrentino has generously offered to produce, stage, choreograph, cast, and costume new segments of the show and to help publicize a modernized, animal-free version of Wild Magic in its new venue.
Arthur has shown a conscious disregard for the wellbeing of the wild and endangered species off of whom he profits. In September 2014, Caesar's Entertainment declined to renew Arthur's contract after the U.S. Department of Agriculture (USDA) cited Arthur for multiple violations of the federal Animal Welfare Act (AWA) and issued an "Official Warning" against the entertainer. The USDA has repeatedly admonished Arthur for declawing the tigers and other big cats used in his show. This often crippling amputation procedure is prohibited by the USDA and condemned by the American Veterinary Medical Association (AVMA) as it can lead to lameness, abscesses, infections, chronic pain, and paw pad atrophy. The USDA has cited Arthur for a multitude of additional AWA violations including: unsafe handling of dangerous wild animals during public exhibition, forcing big cats to live in such small cages that they could not even make normal postural adjustments, housing big cats in unsafe and hazardous enclosures, subjecting big cats to extreme heat without shade from the sun, and disregard for AWA veterinary care regulations.
Arthur is one of only three magicians nationwide who still use big cats in their performances. Other magicians, such as Rick Thomas and Kirby Van Burch, have successfully updated their acts to exclude animal exploitation and have retired their cats from performing. On August 24, Arthur is slated to begin a contract entertaining at the Westgate Resort and Casino. Actor Stephen Sorrentino, who has produced numerous hit shows in Las Vegas including An Evening at La Cage, is thrilled to offer to bring a 21st Century vision to Wild Magic by replacing the existing animal tricks with exotic human performances. ALDF is offering to help rehome the cats to reputable sanctuaries where they will have the naturalistic habitats, space, and care that they have been denied as objects of entertainment.
"An enlightened public is rejecting the notion that exotic and endangered cats should be caged or forced to perform for entertainment acts. ALDF and Sorrentino encourage Arthur to make big cats disappear from his illusion act for good," said Stephen Wells, executive director of the Animal Legal Defense Fund. "We would welcome the opportunity to assist Arthur in creating a win-win scenario for his animals and for himself."
ALDF and Stephen Sorrentino's letter is available upon request.
Related
Proposed rule would maintain an unnecessarily complicated and confusing process for children to get access to plant-based milk

Recommendations aim to decrease risk of zoonotic disease spread, animal escapes and attacks, and psychological and physical harm to the animals

Animal Legal Defense Fund petition for rulemaking spurs reporting improvements: Forms will be revised to ensure AWA licensees maintain complete records of all animal deaths.