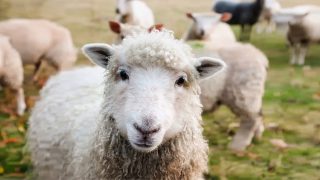 Connecting with Animal Advocates in Los Angeles  
The Animal Legal Defense Fund had a great weekend at this year's Animal Rights National Conference in Los Angeles, California. From exhibiting at the conference to speaking on a panel about Ag-Gag laws to hosting our popular Animal Law Reception, Animal Legal Defense Fund staff stayed busy at this year's event!
In the Exhibit Hall
As a silver sponsor and an exhibitor, we had the opportunity to connect with attendees from across the United States (and world) and share our mission to protect the lives and advance the interests of animals through the legal system. We also spoke with law students and attorneys about our recent cases, opportunities for students interested in pursuing animal law, and ways for attorneys to get involved with our pro bono network.
Shutting Down Ag-Gag Laws
Animal Legal Defense Fund Director of Litigation Matthew Liebman presented "Shutting Down Ag-Gag Laws" with attorney Matthew Strugar. As the director of litigation, Matthew Liebman has helped lead the Animal Legal Defense Fund's fight against Ag-Gag laws – laws that seek to "gag" would-be whistleblowers and undercover activists by punishing them for recording footage of what goes on in animal agriculture.
In addition to his own work against Ag-Gag laws, attorney Matthew Strugar is a frequent Animal Legal Defense Fund collaborator. After the slaughterhouse Manning Beef filed a baseless lawsuit against Los Angeles Cow Save – a group that holds vigils for animals killed by Manning Beef – the Animal Legal Defense Fund, attorney Ryan Gordon, and Matthew Strugar filed a motion to dismiss the trespass lawsuit under the California "anti-SLAPP" statute. This statue serves to protect advocates from lawsuits that are intended to intimidate them from exercising their freedom of speech on issues of public concern. In a victory for free speech, the Los Angeles Superior Court dismissed the lawsuit.
Ag-Gag laws are a serious threat to both animals as well as people and the environment. The public has the right to know about the billions of animals suffering on factory farms as well as whether food safety, workers' rights, and environmental protection laws are violated. Panel attendees learned about the latest developments in the fight against Ag-Gag laws as well strategies for defeating them.
Animal Law Reception 2018
Our Animal Law Reception is a perennial favorite among conference goers. Staff were on hand to discuss our work and answer questions. Attendees enjoyed the opportunity to network with other animal advocates while enjoying drinks and delicious appetizers. Our Director of Litigation Matthew Liebman shared a short video about the Animal Legal Defense Fund's recent victories and vision for the upcoming year.
Conferences are a great time to connect with fellow animal advocates and learn and share about the latest developments in animal law and animal advocacy. Thank you to everyone who joined us, and we'll see you again next year!
Related
An amendment that would prohibit Florida cities and counties from banning the sale of puppies in pet stores is being considered by the Florida House of Representatives Commerce Committee.

This year's Florida legislative session promises to be one of the busiest yet for animals. The Animal Legal Defense Fund is in the halls of the legislature every day – advocating for animals who would otherwise not have a voice.

California businesses alerted they must comply with the law banning sale of cruelly-produced "gourmet" delicacy