Congratulations to 2016 Student Animal Legal Defense Fund (SALDF) Essay Contest Winner Jonathan Morris!
We are pleased to announce Lewis & Clark Law School 3L Jonathan Morris has won the first-ever SALDF Essay Contest, the theme of which was: "How can we best protect wild animals in light of urban expansion and population growth?"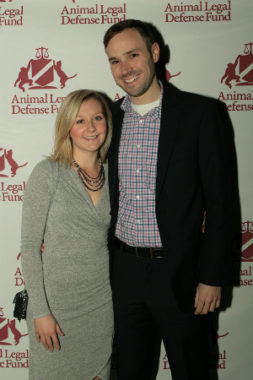 In his winning entry, Time to Grow Up: Vertical Farming as a Potential Solution to Wildlife Issues in the United States, Jonathan argued that in addition to increasing urbanization and human population growth, animal agriculture (including plant crops grown to feed farmed animals) is a significant contributor to wild animals losing their habitats. In addition to the devastating displacement effects of more land being used for agriculture, countless wild animals lose their lives each year through lethal predator control programs operated by federal and state agencies that work to protect agricultural interests. Jonathan posits that vertical farming – a method utilizing taller structures in urban areas to grow crops in a higher density, controlled environment – represents one potential solution to making more land available for wild animals, thus also reducing deadly encounters with humans.
Jonathan won two free tickets to the Animal Legal Defense Fund's Cruise for a Cause, which took place November 5, 2016, and a travel stipend to help him and a guest attend.
He said: "The Animal Legal Defense Fund's Cruise for a Cause was an incredible event. I had a wonderful time meeting supporters and several staff attorneys, all dedicated to improving the lives of animals. As a law student, it is not often I am invited to attend a luxury cruise in Los Angeles. I particularly enjoyed Moby's live performance and meeting Ed Asner. I am grateful for the Animal Legal Defense Fund's generous invitation and hope that the cruise becomes an annual event."
Jonathan is an active member of the Lewis & Clark SALDF chapter. He is currently doing an externship with the Animal Legal Defense Fund, and has clerked for our Litigation and Animal Law Programs. In addition, Jonathan is a recipient of the 2016 Animal Legal Defense Fund Advancement of Animal Law Scholarship.
The Animal Legal Defense Fund salutes Jonathan and all our wonderful SALDF members – the next generation of animal lawyers – as they work to develop innovative solutions to create a brighter, more humane future for all animals.
Related
Actors Paul Wesley, Christina Ricci, Stevie Van Zandt and dozens of native and resident celebrities join the Animal Legal Defense Fund in an open letter urging the state's legislators to end the intensive confinement of mother pigs and calves in New Jersey.

The Animal Legal Defense Fund files amicus brief seeking to prevent industries from using public record exemptions to hide information from the public.

Animal Legal Defense Fund increases reward for information leading to the arrest and conviction of the person or people responsible for harassing manatee in Citrus County, Florida