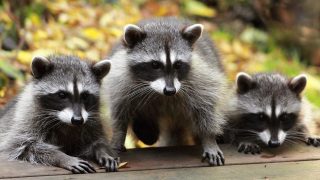 Coalition Calls on Gov Scott to Reassign Dewie Brewton Case
The Animal Legal Defense Fund has joined forces with the Association of Prosecuting Attorneys (APA) and Animal Welfare Institute (AWI) to once again call upon Florida Governor Rick Scott to reassign the case of Dewie Brewton to another Florida state attorney.
Dewie Brewton was a high school teacher in Ocala, Florida. In May of this year, Mr. Brewton violently drowned two raccoons and one opossum, compelling his students to witness and even participate in the act of cruelty. The Animal Legal Defense Fund determined that the allegations would support animal cruelty, solicitation, and child abuse charges; and urged State Attorney Brad King to file charges. Mr. King refused to prosecute, publicly issuing a memorandum explaining his decision—a memorandum which erred in a number of its findings, including a patently false claim that drowning could be considered "humane euthanasia."
When Mr. King refused to reconsider his decision, the Animal Legal Defense Fund called upon Governor Scott to reassign the case to another state attorney; one who could independently assess the facts of this case and ensure justice for the animal victims. Now, APA and AWI have joined the Animal Legal Defense Fund, and together with a unified voice the three organizations are calling upon Governor Scott to reassign the case in the interests of justice.
Related
Law enforcement officers and prosecutors who respond to crimes face a host of challenges. From neglected cows who are unable to testify, to dog fighting 'evidence' having puppies, the unexpected is a matter of course in the struggle against animal cruelty.

More than 100 prosecutors, veterinary professionals, and law enforcement officials from across the country will be meeting in Louisville next week for the Eighth Annual Animal Cruelty Prosecution Conference.

In May 2018, the Animal Legal Defense Fund filed a unique lawsuit in Oregon on behalf of a severely maltreated horse named Justice. Justice suffered starvation, frostbite, and other grave injuries due to his owner's failure to provide him with basic care.