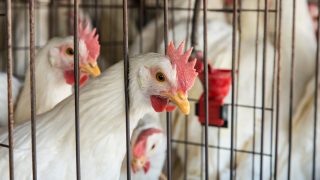 Coalition Calls for a Moratorium on Federal Loans for Chicken CAFOs in Arkansas Pending Careful Environmental Review
Community, Environmental and Animal Protection Coalition Exposes Federal Government's Failure to Follow Regulations
Contact: media@aldf.org
LITTLE ROCK, Ark.—Today, the Animal Legal Defense Fund, along with Arkansas Rights Koalition (ARK) and Center for Biological Diversity (CBD), petitioned two federal agencies to carefully review the environmental, animal-welfare and public-health impacts of a number of rapidly expanding animal agriculture operations in an ecologically pristine area of northeastern Arkansas. The petition calls for an immediate moratorium on federal loans for construction of large chicken factory farms pending an area-wide review of environmental risks—including the farms' contribution to climate change.
The U.S. Department of Agriculture's Farm Services Agency (FSA) and the Small Business Administration (SBA)—the federal agencies primarily responsible for approving loans to fund the construction and operation of factory farms—have received hundreds of loan applications from northeastern Arkansas poultry operators since the development of two large poultry slaughter and processing facilities in Batesville and Pocahontas, Ark. in 2014. This expansion is poised to bring approximately 1,000 new chicken factory farms into the area, which will burden the region with an estimated 7 to 16 billion cubic feet of waste annually.
The involvement of federal agencies in the loan process triggers environmental-review requirements under the National Environmental Policy Act (NEPA). Petitioners assert that, to date, the FSA and SBA have failed to fulfill their duties under NEPA. At present, FSA county offices are processing applications individually, making it impossible for the agency to evaluate the combined environmental impact of introducing so many highly pollutive operations to a single geographical area. The consequences of such a narrow-sighted approach could be devastating.
Factory farms, also known as concentrated animal feeding operations (CAFOs), spell tragedy for animals, including local wildlife, endangered species, and the farmed animals themselves. In northeastern Arkansas, the mass of chicken excrement alone will wreak havoc on surrounding ecosystems—including the Strawberry River Watershed—and the health of the community at large, while also pouring climate-altering greenhouse gases into the air.
Chicken CAFOs are very expensive to construct and operate. Consequently, most contract growers do not meet banks' basic requirements for loans or mortgages. They turn instead to the federal government for loans. In northeastern Arkansas alone, this concerns roughly one billion dollars of federal taxpayer funds going to support an industry that is defiling the local environment and brutalizing the animals under its control.
The coalition also contends that, under NEPA, the federal government must consider the welfare of the chickens themselves. NEPA was enacted to protect the human environment. Farmed animals are indisputably part of that environment—and their suffering as part of the factory farm process is well-documented. Factory farm conditions prevent birds from engaging in their natural behaviors, such as developing social hierarchies and dust bathing. Packed by the tens of thousands into sheds, the birds live their entire lives in a choking, bedlam. Shortly after birth, the tips of their beaks are seared off with a hot knife, and their wings are clipped. By the time they reach slaughter-weight, the chickens' bones are so brittle from malnutrition that many cannot stand up on their own.
"Chickens are among the most abused animals in the U.S.," says Animal Legal Defense Fund Executive Director Stephen Wells. "Investigations and industry whistleblowers have revealed abuses on farms and in slaughterhouses so horrific, most people cannot even bear to witness them."
The network of proposed poultry operations in northeastern Arkansas could emit more than 700,000 metric tons of greenhouse gases annually—the equivalent of driving 148,000 cars for an entire year. This in addition to generating enormous amounts of water and air pollution, and causing horrendous animal suffering.
"NEPA has long served as a centerpiece of America's globally recognized environmental protection movement," says Curtis Middleton of Arkansas Right Koalition. "It's time for FSA and SBA to fully evaluate the implications of their potentially disastrous lending schemes and meaningfully evaluate the impact intensive confinement of animals has on animal suffering, public health, environmental degradation and climate change."
For more information visit www.aldf.org.
Related
Proposed rule would maintain an unnecessarily complicated and confusing process for children to get access to plant-based milk

Recommendations aim to decrease risk of zoonotic disease spread, animal escapes and attacks, and psychological and physical harm to the animals

Animal Legal Defense Fund lawsuit leads to rule revocation excepting medium-sized factory farms from environmental review before receiving federal funding