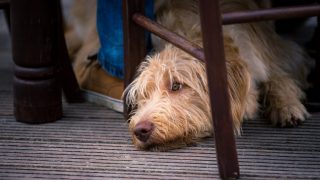 The Case for Tougher Animal Cruelty Laws
Update: This action is closed.
They were sure she was dead.
Bella, the 11 year-old shepherd mix, had been shoved into a garbage bag and beaten with a shovel. Her owner, Michael Gallagher, had first tied a zip-tie around her neck before he began hitting her. When neighbors interceded, and Gallagher fled, they were shocked to see that the garbage bag was moving. Somehow, Bella was still alive.
Although they rushed her to a veterinary hospital, her injuries were too severe — and Bella had to be euthanized.
New York prosecutors pursued the maximum sentence for Gallagher's crime, after he pleaded guilty to a felony charge of aggravated cruelty to animals.
Believe it or not, Gallagher will spend just four months in county jail for his crime!
Why? Because in New York, as in so many other states, the animal cruelty statutes are in desperate need of updating.
Join us in standing up against animal cruelty.
Sadly, the story is the same in states across the country. A patchwork of outdated state laws allows convicted animal abusers to keep their animals, prevents veterinarians from reporting suspected cruelty, and provides no felony provisions for neglect or abandonment. And there are currently no federal laws against these kinds of crimes.
We need your help to protect animals. Please sign the petition now.
Related
Animal Legal Defense Fund challenges the renewed license for the owner of Wildlife on Wheels after evidence has revealed ongoing violations for more than a decade

A Courtroom Animal Advocate Program (CAAP) bill, S.2868/A.4533, which would allow law students and volunteer lawyers to advocate for animal victims in cruelty criminal cases, unanimously passed the New Jersey Senate. The bill is sponsored by Senator Nicholas Scutari and Assemblyman Raj Mukherji and endorsed by the Animal Legal Defense Fund.

Animal protection advocate and actress Kim Basinger sent a letter to Craigslist CEO Jim Buckmaster with an urgent request the company end all animal posts on its platform.