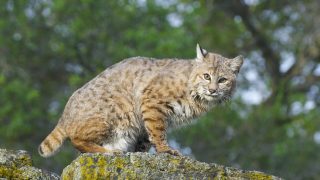 California: Protect Wildlife from Super-Toxic Poisons
This action is for California residents only.
THIS ACTION IS CLOSED.
With your advocacy, AB 1788, the California Ecosystems Protection Act, has continued to move through the California legislature – passing the Assembly in May and the first Senate committee in mid-June. This critical bill would ban the super-toxic rodenticides (rat poisons) that are killing California's wildlife.
AB 1788 is next being heard by the Senate Committee on Natural Resources and Water. It's critical that the following five senators hear from their constituents in the support of this bill:
Senator Brian W. Jones (Vice Chair)
Senator Andreas Borgeas
Senator Anna M. Caballero
Senator Robert M. Hertzberg
Senator Ben Hueso
If your senator is on this list, please call before July 9th! If you're not sure who your senator is, find out here.
If your senator is not on this list, please share this alert on Facebook or Twitter to get the word out to other Californians!
Rodenticides are poisoning California's native wildlife. Rats who consume these poisons are in turn consumed by other wildlife, resulting in secondary poisoning and contamination of the food chain. The bill bans super-toxic second generation anticoagulant rodenticides (SGARs) except for agricultural use or by special permit. AB 1788 also prohibits less potent, but still dangerous, first generation anticoagulant rodenticides (FGARs) on state-owned lands.
Make a brief phone call and ask your senator to support AB 1788 and protect wild animals like bobcats, bald eagles, and Pacific fishers. Use this message: I am your constituent, and I care about protecting California's wildlife. Please vote YES on AB 1788, the California Ecosystems Protection Act.
Contact Information for Senators 
| | | |
| --- | --- | --- |
| Sen. Brian W. Jones (Vice Chair) | Escondido | 916-651-4038 |
| Sen. Andreas Borgeas | Central Valley/Fresno | 916-651-4008 |
| Sen. Anna M. Caballero | Salinas Valley/Modesto | 916-651-4012 |
| Sen. Robert M. Hertzberg | Van Nuys/San Gabriel Valley | 916-651-4018 |
| Sen. Ben Hueso | San Diego County | 916-651-4040 |
Despite the support of countless Californians, the pest control industry is working hard to stop this bill from passing. Without your voice, AB 1788 won't become law. Please take a few minutes and call today.
THIS ACTION IS FOR CALIFORNIA RESIDENTS ONLY
Related
Co-authored by Animal Legal Defense Fund, Joaquin Phoenix, Rooney Mara, and Glenn Close call on Congress to pass federal legislation

Today the California Ecosystems Protection Act, passed out of the California Assembly. Authored by Assemblymember Richard Bloom and sponsored by ALDF and a coalition of wildlife protection groups, the bill bans second generation anticoagulant rodenticides.

California is poised to make major strides for animals this legislative session with more than a dozen animal bills being considered. Eight of these bills are being heard in committees on April 9th alone. Watch the bill hearings here.