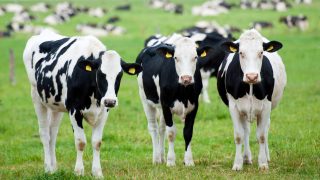 California Proposing Regulation and Mandatory Reporting of Greenhouse Gas Emissions from Animal Agriculture
The world received some good news last week when California's Air Resources Board (commonly referred to as "ARB") announced that it is proposing to create regulations to reduce methane emissions from manure at large dairy facilities in the state, and require those facilities to report their emissions to the state. Presently, animal agriculture facilities are not required to reduce or even report emissions in California even though facilities in other industries are generally required to do so. In fact, animal agriculture facilities are generally exempt from other climate change regulations around the world, meaning California may become a leader in starting to regulate the industry. Animal agriculture is responsible for 15 percent of greenhouse gas emissions worldwide according to the Food and Agriculture Organization of the United Nations, similar to emissions from the entire transportation sector.
The Air Resources Board is the department of California's Environmental Protection Agency responsible for air quality. The announcement that it planned to begin regulating dairy manure management was fueled in large part by pressure from the Animal Legal Defense Fund, which submitted a petition for rulemaking in October 2014 asking the agency to regulate greenhouse gas emissions from animal agriculture under California's cap-and-trade program. We also urged the ARB to include animal agriculture under the mandatory reporting regulation for greenhouse gas emissions to promote transparency and better policymaking. We filed that petition because the need to curb animal agriculture's significant impact on climate change was not being adequately addressed by policymakers or other public interest groups. We believe the ARB arbitrarily exempted animal agriculture from climate change regulations and reporting requirements.
Around the same time, California's legislature passed a law compelling ARB to tackle methane emissions, presenting a perfect opportunity to push the animal agriculture issue. At first, the ARB insisted that it would simply continue incentivizing voluntary reductions in methane emissions from the dairy industry—the legal equivalent of regulating major polluters by asking them "pretty please with sugar on top?" Thanks to your support and intense criticism from the Animal Legal Defense Fund as well as other organizations, the ARB's latest proposal is a step in the right direction. It partially satisfies our request by requiring mandatory reporting of methane emissions by dairy facilities. This data would become public record so public interest groups can monitor animal agriculture emissions.
The Air Resources Board's proposal is part of growing recognition by environmental leaders that greenhouse gas emissions by animal agriculture are a significant component of climate change that must be addressed. During the climate change talks in Paris in December 2015, former California Governor Arnold Schwarzenegger suggested that people begin shifting toward a vegetarian diet to combat climate change. Around the same time in November 2015, international affairs think tank Chatham House published a startling report finding that consumption of animal products must be significantly decreased to meet greenhouse gas reduction goals necessary to avoid the worst effects of climate change.
Although the ARB is not proposing to add animal agriculture to the cap-and-trade market, which our petition recommended, it is proposing to regulate manure emissions from mega dairy facilities by requiring better manure management. Approximately half of all greenhouse gas emissions from the dairy industry in California comes from animal manure. Mega dairy and other animal agriculture facilities usually collect excessive manure in lagoons, which causes a chemical reaction that releases methane into the atmosphere. According to the Environment Protection Agency, the comparative impact of methane on climate change is more than 25 times greater than carbon dioxide. Dairy facilities can decrease methane emissions from manure by installing special equipment that captures methane from lagoons, scraping dry or slurry manure from the facility rather than collecting it in a lagoon, or utilizing pasture-based management of cow herds.
Animal agriculture facilities also release methane through enteric fermentation, i.e. animal flatulence and related processes. The ARB unfortunately is not currently proposing to regulate this type of emission, which constitutes about half of all methane emissions from animal agriculture in the state.
There are concerns that the ARB's regulations will not go far enough, but the Animal Legal Defense Fund will remain involved in the fight for the strongest possible regulations while doing its best to ensure protection of animals and the environment. The ARB is expected to officially adopt a plan to regulate methane in the fall of 2016.
Related
The gift of more than $1 million will fund the program over the next four years

This action is for U.S. residents only.

The victory follows the passage of a factory farming law and efforts to curtail the construction of new mega dairies in the state