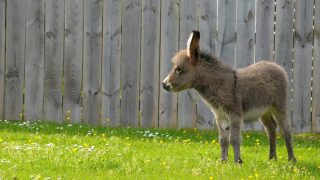 Application to Start a Student Chapter at Your School
Animal Legal Defense Fund Student Chapters
It's easy to start a student chapter at your school. Student chapters are an instrumental part of a growing national movement toward recognizing the important body of law known as animal law. A student chapter can be a powerful forum on campus for education and scholarship aimed at understanding this area of law and the impact it has on animals. Most importantly, student chapters are in a unique position to powerfully advocate for changing laws to better protect animals.
---
Related
The U.S. District Court for the Central District of California dismissed the industry's constitutional challenge in its entirety, and forbade the plaintiffs from trying to renew those claims.

The Animal Legal Defense Fund filed a lawsuit against the U.S. Department of Agriculture (USDA) for issuing a final rule allowing pig slaughterhouses nationwide to police themselves and kill pigs at very high line speeds.

Ask your state legislators to provide an opportunity for dogs and cats used in research to find loving homes once their time in a research laboratory has come to an end by supporting An Act Protecting Research Animals.