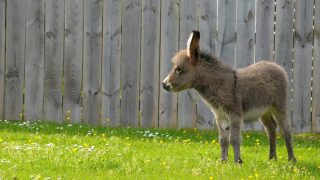 Application to Start a Student Chapter at Your School
Animal Legal Defense Fund Student Chapters
It's easy to start a student chapter at your school. Student chapters are an instrumental part of a growing national movement toward recognizing the important body of law known as animal law. A student chapter can be a powerful forum on campus for education and scholarship aimed at understanding this area of law and the impact it has on animals. Most importantly, student chapters are in a unique position to powerfully advocate for changing laws to better protect animals.
---
Related
Today, a coalition of public interest groups filed a lawsuit in Kansas challenging the constitutionality of the state's Ag-Gag law, which makes it a crime to document animal cruelty at factory farms and slaughterhouses.

The Animal Legal Defense Fund is disappointed that the U.S. Supreme Court has decided not to weigh in on laws related to construction of a U.S. – Mexico border wall. Construction will impact thousands of animals, including dozens of endangered species.

'Do chickens count?' The BIA's decision and the Animal Legal Defense Fund's arguments in the Ortega-Lopez v. Lynch case represent an important step forward in improving the legal status of animals.