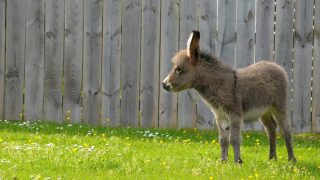 Application to Start a Student Chapter at Your School
Animal Legal Defense Fund Student Chapters
It's easy to start a student chapter at your school. Student chapters are an instrumental part of a growing national movement toward recognizing the important body of law known as animal law. A student chapter can be a powerful forum on campus for education and scholarship aimed at understanding this area of law and the impact it has on animals. Most importantly, student chapters are in a unique position to powerfully advocate for changing laws to better protect animals.
---
Related
The Animal Legal Defense Fund, the nation's preeminent legal advocacy organization for animals, is offering a $5,000 reward for information leading to the arrest and conviction of the person or people responsible for illegally trapping a coyote in Essex County, Massachusetts.

Animal Legal Defense Fund sues Foster Farms for violating California law by using cruel, water-intensive slaughter method during megadrought

A coalition, led by the Animal Legal Defense Fund, filed an emergency petition with the USDA to prevent COVID-19 relief funds, resources, and any other forms of support from facilitating or compensating for the costs of ventilation shutdown or water-based foam "depopulation" — the mass killing of animals on factory farms.