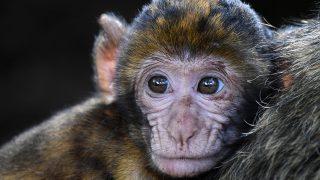 Appeal Filed in Lawsuit Challenging University of Wisconsin-Madison's Censorship of Controversial Primate Research on Its Social Media Accounts
Damning evidence presented during proceedings are the foundation of the appeal
Contact: media@aldf.org
WASHINGTON, D.C. — Today, the Animal Legal Defense Fund filed a notice of appeal with the Seventh Circuit Court of Appeals challenging the dismissal of a lawsuit filed on behalf of Madeline Krasno, a former employee of the University of Wisconsin-Madison's controversial primate research labs. The lawsuit, filed in February 2021, alleges the University silenced Krasno from advocating against animal testing on the University of Wisconsin's social media profiles, preventing her from posting truthful comments because they are critical of the university's sordid history of animal testing. As the University of Wisconsin is a public university, the suit challenged the university's censorship of Krasno's speech on its social media profiles as a violation of her First Amendment right to engage in free speech.
In May 2022, the Animal Legal Defense Fund filed a motion for summary judgment seeking to end the censorship of Krasno, based in part on evidence provided by the University that demonstrated a concerted effort to silence criticism of its animal testing program. Documents produced during discovery revealed lists of automatically censored words and phrases for its Facebook and Instagram pages, for instance, hiding all comments that included the following keywords: animal laboratories, testing on animals, primates, monkeys, cruelty, research animals, testing, kill animals, and torture.
"It is critical that whistleblowers like Krasno can speak out freely about their experiences with animal testing to provide first-hand information and awareness about what is taking place behind closed doors at an institution primarily funded by the public," says Animal Legal Defense Fund Executive Director Stephen Wells. "The evidence released during proceedings in the case show a clear violation of Krasno's First Amendment rights and should be overturned."
As an animal lover, Krasno was inspired to study zoology at the University of Wisconsin, with the goal of working in the field of primate conservation. Seeking hands-on experience with primates, she worked as a student caretaker for primates at the school's Harlow Center for Biological Psychology for approximately two years — an experience that exposed her to the harsh realities of animal testing.
In addition to the blocked words, the lawsuit uncovered evidence of disturbing and blatantly discriminatory censorship practices. The university admitted that it intentionally censored words to hide comments made in connection with animal protection campaigns, such as "Cornelius," a reference to online campaigns focused on the release of a primate held by the university in a testing facility. The university admitted that its comment moderation is inconsistent and that there is no process to ensure regular oversight of moderation decisions such as blocking users and censoring new words. Documents further revealed that university staff monitored Krasno's social media account and discussed creating fake profiles to covertly attend one of her presentations.
"Social media has been an important outlet for me to publicly comment about my time working in the primate research labs at the University of Wisconsin and how those harrowing experiences not only still impact me today but have made me want to speak out on behalf of the animals who continue to suffer," says Krasno. "The evidence has made it clear that the University of Wisconsin has intentionally stifled my ability to have a public conversation on animal experimentation and I hope to see an end to this deliberate censorship."
While working with primates at the facility Krasno witnessed the victims of the university's extensive animal testing. Krasno viewed firsthand a monkey who'd been subjected to an invasive cranial procedure that left an opening in his skull that was covered with a so-called "headcap," who shook his cage bars and reached out his hands to grab in vain at passing humans. She witnessed a mother monkey and her newborn who screamed as they were separated so the newborn could be tattooed, an infant monkey who died in Krasno's hands during a seizure, and a mother monkey who clutched her dead newborn for more than a full day until Krasno and a coworker were directed to separate her from the baby — a distressing experience that ended with the mother pressing her lips to the baby's head before retreating alone into a transport cage. Her reactions to the experiences she had at the facility led Krasno to a later diagnosis of post-traumatic stress disorder.
Primate research conducted at the university's Harlow Lab and Wisconsin National Primate Research Center has long been the subject of controversy. In 2014, the Animal Legal Defense Fund filed a lawsuit over the university's failure to provide certain public records related to its inhumane and taxpayer-funded "maternal deprivation" tests, in which newborn monkeys were intentionally separated from their mothers to study the results on the newborns' psychological development. In 2017, the Wisconsin Fourth District Court of Appeals ruled that the university needed to fully disclose records related to the internal review of these taxpayer-funded experiments on infant monkeys. Most recently, in 2020, the U.S. Department of Agriculture (USDA) cited the University of Wisconsin for serial Animal Welfare Act (AWA) violations, including improper handling resulting in at least 20 incidents of nonhuman primates requiring amputation of body parts such as hands, feet, digits, and tongues. According to USDA inspection reports, similar AWA violations have persisted at the university even after the citation.
The Animal Legal Defense Fund and Krasno are further represented in this case by Joseph S. Goode, Mark M. Leitner, and Jessica L. Farley of Laffey, Leitner & Goode LLC in Milwaukee, Wisconsin.
Related
The 17th annual U.S. Animal Protection Laws Rankings Report (2022) ranks the animal protection laws of all 50 states.

The amicus briefs from notable experts including Harvard University's Laurence H. Tribe filed in support of neglected horse's lawsuit against his former abuser

Join co-host Jackson Galaxy, comedian Nikki Glaser, and other special guests