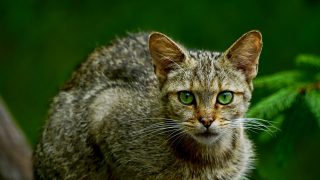 Animal Legal Defense Fund Offers $5,000 Reward in Case of Cat Killed in Clallam County
Reward for information leading to the arrest and conviction of the person or people responsible
Contact: media@aldf.org
Clallam County, WA – The Animal Legal Defense Fund, the nation's preeminent legal advocacy organization for animals, is offering a $5,000 reward for information leading to the arrest and conviction of the person or people responsible for killing a 7-year-old domestic long hair cat named Tarot. Officials reported that Tarot was found cut in half in Shane Park early on Sunday, July 8, 2018.
Tarot lived in Port Angeles and was "a beloved member" of his family, his distraught guardian wrote on Facebook after his killing. Tarot's body was discovered near a children's playground, where it had been placed after being cut in half in another location. Deputy Chief Jason Viada of the Port Angeles Police Department said to a local news outlet that Tarot's body had been "clean cut by a sharp tool." That, coupled with the lack of teeth or claw marks led investigating police to conclude that Tarot had been killed by a human.
In Washington, it is a Class C felony to intentionally kill an animal by a means causing undue suffering, or while manifesting an extreme indifference to life. The maximum penalty is up to five years imprisonment or a $10,000 fine, or both; along with an additional $1,000 fine to be paid to the county to prevent animal cruelty.
"Violence against companion animals is one of the strongest predictors for other crimes and violent acts," said Animal Legal Defense Fund Executive Director Stephen Wells. "The perpetrator of this heinous crime poses a threat to all members of the Port Angeles community – both human and nonhuman."
If you have information related to this incident, please contact the Port Angeles Police Department at (360) 452-4545.
Related
As shelter-in-place orders are given across the nation, there is a growing concern that family violence will be on the rise.

The Animal Legal Defense Fund is offering advice on what you should prepare for your animals' care, should the primary caregivers of pets be unavailable.

The Animal Legal Defense Fund, the nation's leading legal advocacy organization for animals, has tips for how you can make sure your companion animals sail through even the worst weather winter has to offer.