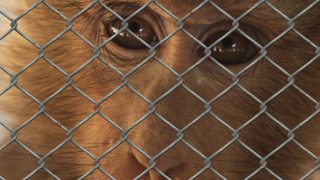 Animal Legal Defense Fund Calls on the USDA to Protect the Psychological Wellbeing of Primates
Animal Legal Defense Fund Alleges that the USDA Has Failed to Protect Primates Under the Animal Welfare Act
For immediate release:
Contact:
media@aldf.org
SAN FRANCISCO – The national nonprofit Animal Legal Defense Fund (ALDF) submitted comments to the U.S. Department of Agriculture (USDA) in support of regulatory changes necessary for preventing suffering and ensuring the psychological wellbeing of primates used for research. The Animal Welfare Act (AWA) exists in part to "insure…humane care and treatment" of animals used by dealers, exhibitors and research facilities. 7 U.S.C. § 2131. Unfortunately, the AWA regulations pertaining to the psychological wellbeing of primates in research facilities are so vague that they are rendered virtually meaningless and unenforceable. Indeed, despite these regulations, undercover investigations demonstrate that primates are frequently housed alone with virtually no enrichment, which contributes to the stress of these complex and social animals.
One change ALDF has called for is the prohibition of cruel maternal deprivation experiments on infant non-human primates. These cruel experiments, in which infant primates are forcibly removed from their mothers and subjected to purposefully terrifying experiences, inflict overwhelming suffering and psychological damage on the newborns and are condemned by many experts.
The USDA's own internal auditing department reported its concerns that animals used for research do not always receive "basic humane care and treatment," underscoring the need for specific, enforceable regulations to ensure that the particularly complex biological and psychological needs of primates are being provided for.
"The intended purpose of the AWA cannot be fulfilled unless specific, enforceable threshold standards are established to promote the psychological wellbeing of primates used for experiments." said Stephen Wells, executive director of ALDF.
The Animal Legal Defense Fund's comments are available by request.
Related
Today, the Animal Legal Defense Fund and Rise for Animals filed a lawsuit against the United States Department of Agriculture (USDA) under the Freedom of Information Act (FOIA) for the agency's failure to respond to a request for public records related to the inconsistent inspection process of nonhuman primate research facilities.

Three baboons and two macaques removed from Cricket Hollow Zoo are transferred to primate sanctuary, following Animal Legal Defense Fund lawsuit

In early 2017, the U.S. Department of Agriculture (USDA) purged tens of thousands of important documents related to animal welfare from the agency's website. The purged inspection reports documented violations of the federal Animal Welfare Act (AWA).