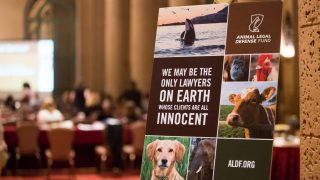 Animal Law Symposium: Wildlife 2022
Virtual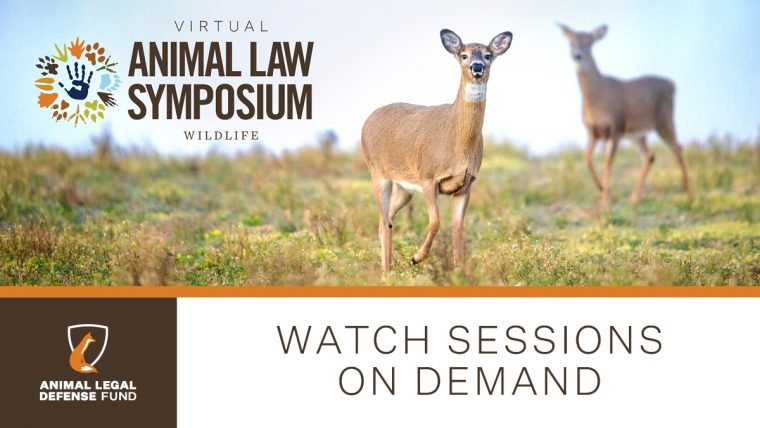 On April 29 – 30, 2022, the Animal Legal Defense Fund hosted the two-day online symposium, featuring panels on legal protections for wild animals, community advocacy, international wildlife treaties, aquatic life, and more.
Agenda
Sessions
The Emergence of Aquatic Animal Law
Historically, aquatic animals have been left out of conversations surrounding law, statistics, and compassion despite their known sentience and the prevalence of their exploitation. However, acknowledgment of aquatic animals in law, science, environment, and health has become more mainstream in recent years. Join Kathy Hessler for an interactive discussion on current issues and future opportunities in aquatic animal protection.
Speakers:
Kathy Hessler, Clinical Professor of Law and Animal Law Clinic Director, Center for Animal Law Studies at Lewis & Clark Law School
Moderator: Amy P. Wilson, Executive Director, Animal Law Reform South Africa
Welcome remarks by Kathleen Schatzmann, Strategic Legislative Affairs Manager, Animal Legal Defense Fund
Resources
Intersection of Wildlife & Human Populations
Urban and suburban sprawl are reducing the buffer between native species — like wolves and coyotes — and residential and business developments. This encroachment on wildlands requires policies that protect existing species and behavioral modifications on our part to limit encounters. Join us for a discussion on the science behind canids, working with industry professionals on non-lethal approaches, and the co-existence of humans and wildlife in shared spaces, including potential roles for wildlife services and ending killing contests.
Speakers:
Dr. Bridgett M. vonHoldt, Associate Professor, Ecology & Evolutionary Biology, Princeton University
Zack Strong, Senior Staff Attorney, Terrestrial Wildlife, Animal Welfare Institute
Dr. Michelle Lute, National Carnivore Conservation Manager, Project Coyote
Moderator: Daniel Waltz, Managing Attorney, Animal Legal Defense Fund
Resources
International Wildlife Coalitions
A global approach to animal, environmental, and public health is necessary to stabilize and reduce our impact on the planet. International wildlife coalitions are an opportunity for both government and nonprofit organizations to work together for the betterment of animals, biodiversity, and our future. Join panelists working on an international level to examine the challenges, differences, and opportunities for growth within these conventions, including strategic opportunities, progress and impacts, and possible solutions moving forward.
Speakers:
Tanya Sanerib, International Legal Director, Center for Biological Diversity
Zak Smith, Senior Attorney & Director, International Wildlife Conservation, National Resources Defense Council
Dr. Rajesh K. Reddy, Animal Law Program Director, Center for Animal Law Studies at Lewis & Clark Law School
Moderator: Nicholas Fromherz, Adjunct Professor & Latin American Program Director, Global Law Alliance for Animals and the Environment, Lewis & Clark Law School
Resources
The Future of Infrastructure & Wildlife Protection
Civil engineering takes numerous human centric needs into consideration — but rarely address the impacts on native wildlife, including their territories and migration routes and their continued access to true natural resources. Join us as panelists discuss the role wildlife plays in infrastructure at the federal, state, and local levels, including the Wildlife Corridors Act, new programs stemming from the Infrastructure, Investment, and Jobs Act, and questions regarding fiscal responsibility. Advocates will also learn how to take action in their own communities.
Speakers:
Renee Callahan, Executive Director, Animal Road Crossing (ARC) Solutions
Alicia Prygoski, Senior Legislative Affairs Manager, Animal Legal Defense Fund
Moderator: Kathleen Schatzmann, Strategic Legislative Affairs Manager, Animal Legal Defense Fund
Resources
This virtual event will feature panels on animal cruelty prevention and investigation, recent animal cruelty cases, and more!
REGISTER TODAY
Related
This action is for U.S. residents only.

The victory follows the passage of a factory farming law and efforts to curtail the construction of new mega dairies in the state

Lawsuit filed by the Animal Legal Defense Fund and The Good Food Institute asserts that the law imposes unclear and vague standards on plant-based meat producers