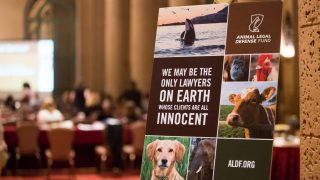 Speaker Bios for Animal Law Symposium: Washington, D.C.
Saturday, September 24, 2022
Randall S. Abate
Assistant Dean for Environmental Law Studies
The George Washington University Law School
Randall S. Abate joined GW Law in July 2022 as the Assistant Dean for Environmental Law Studies. He brings 28 years of experience teaching, writing, managing programs, and mentoring students on domestic and international environmental law issues in various contexts.
Prior to coming to GW Law, from 2018-2022, Dean Abate served as the inaugural Rechnitz Family and Urban Coast Institute Endowed Chair in Marine and Environmental Law and Policy and a Professor in the Department of Political Science and Sociology at Monmouth University in West Long Branch, New Jersey. He also served as the Director of the Institute for Global Understanding at Monmouth from 2020-2022. Prior to Monmouth, Professor Abate was a full-time faculty member at six U.S. law schools, most recently as a Professor of Law from 2009-2018 at Florida A&M University College of Law in Orlando, Florida, where he also served as Associate Dean for Academic Affairs in 2017. He has also taught full-time at Florida State University College of Law, Florida Coastal School of Law, Rutgers Law School (Camden), Widener University Commonwealth Law School (Harrisburg), and Vermont Law School. Throughout his academic career, Dean Abate has taught courses in domestic and international environmental law, climate change law and justice, ocean and coastal law, constitutional law, torts, and animal law.
Dean Abate also has taught international and comparative law courses—and delivered lectures and presentations—on environmental and animal law topics around the world. In April 2013, he taught a Climate Change Law and Justice course at the National Law Academy in Odessa, Ukraine on a Fulbright Specialist grant. Dean Abate also has delivered lectures on climate justice and animal law topics hosted by several of the top law schools and universities in the world, including Harvard, Cambridge, Oxford, Yale, Columbia, the University of Pennsylvania, the University of Sydney, the University of Toronto, McGill, the London School of Economics, King's College London, University College London, the University of Copenhagen, and Seoul National University.
Immediately prior to joining GW Law, in May and June 2022, Dean Abate conducted a four-week lecture series tour in five countries. He delivered keynote lectures and conference presentations on climate change law and justice, ocean governance, and the parallels and synergies between animal law and environmental law to law professors, law students, university professors, and university students (Ph.D., master's, and undergraduates) at Cadi Ayyad University (Marrakesh and Safi, Morocco); the University of Eastern Piedmont (Vercelli and Alessandria, Italy); Oxford University, Cambridge University; the University of Copenhagen; and the University of Helsinki.
Dean Abate has published six books and more than thirty law journal articles and book chapters on environmental and animal law topics, with a recent emphasis on climate change law and justice. Early in his career, Professor Abate handled environmental law matters at two law firms in Manhattan.
Chris Berry
Managing Attorney
Animal Legal Defense Fund
Chris Berry works on a broad range of animal issues including puppy mills, factory farms, and consumer rights at the Animal Legal Defense Fund. He helps formulate creative legal theories to help animals and challenges government agencies that are not following the law, as in Legal Rights and Duties in Lost Pet Disputes.
Chris also works hard to fight abuse on factory farms and protect consumers who want to make humane choices. For example, Chris served on the Cal-Cruz Hatcheries case, applying the animal cruelty code to a chicken hatchery through a consumer protection law. Chris also worked on Glover v. Mahrt, a class-action lawsuit alleging that egg packaging depicting outdoor hens mislead consumers who wanted to buy more humanely produced eggs.
Chris graduated with honors in 2008 from the University of South Dakota, where he majored in political science and minored in psychology. While there, he focused his attention on animal issues and wrote an honors thesis arguing that invasive medical testing on animals violates fundamental bioethics principles. Chris attended law school at the University of Michigan while maintaining his interest in animal rights with a focus on litigation. Chris was involved in student advocacy in Ann Arbor and acquired experiences interning at the public defender's office in the child abuse and neglect docket, participating in the environmental law clinic, and serving as a law clerk for the Humane Society of the United States, where he worked on the farmed animal litigation team.
Thomas M. Bondy
Senior Counsel, Supreme Court and Appellate Litigation
Orrick
Thomas M. Bondy is a member of the Supreme Court & Appellate practice at Orrick, Herrington & Sutcliffe. Mr. Bondy served as FBI Deputy General Counsel from 2012 to 2015. Prior to that, Mr. Bondy spent 26 years with the U.S. Department of Justice, Civil Division, Appellate Staff, as an appellate litigator and supervisor where he personally briefed and orally argued more than one hundred cases in all the federal courts of appeals and several state appellate courts Mr. Bondy received the Justice Department's John Marshall Award for outstanding appellate advocacy, as well as the Attorney General's Award for furthering the interests of U.S. national security. Before joining DOJ, Mr. Bondy clerked for then-Judge (now retired U.S. Supreme Court Justice) Anthony Kennedy on the U.S. Court of Appeals for the Ninth Circuit. Mr. Bondy holds a J.D. from the UCLA School of Law, and a B.Sc. from McGill University (in Montreal, Canada) with a major in mathematics.
Dayna Bowen Matthew
Dean and Harold H. Greene Professor of Law
The George Washington University Law School
Dayna Bowen Matthew, JD, PhD, is the Dean and Harold H. Greene Professor of Law at the George Washington University Law School. A leader in public health and civil rights law who focuses on disparities in health, health care, and the social determinants of health, Dean Matthew joined GW Law in 2020. She is the author of the bestselling book Just Medicine: A Cure for Racial Inequality in American Health Care and the newly released Just Health: Treating Structural Racism to Heal America.
Dean Matthew previously served on the faculty of the University of Virginia School of Law, where she was co-founder and inaugural director of The Equity Center, a transdisciplinary research center that seeks to build better relationships between UVA and the Charlottesville community through community engaged scholarship that tangibly redresses racial and socioeconomic inequality.
Earlier in her career, Dean Matthew served on the University of Colorado law faculty as a professor, vice dean, and associate dean of academic affairs. She was a member of the Center for Bioethics and Humanities on the Anschutz Medical Campus. Dean Matthew held a joint appointment at the Colorado School of Public Health.
Dean Matthew also has taken on many public policy roles. In 2013, she co-founded the Colorado Health Equity Project, a medical-legal partnership incubator aimed at removing barriers to good health for low-income clients by providing legal representation, research, and policy advocacy. In 2015, she served as the senior adviser to the Director of the Office of Civil Rights for the US Environmental Protection Agency, where she expedited cases on behalf of historically vulnerable communities besieged by pollution. She then became a member of the health policy team for US Senator Debbie Stabenow of Michigan and worked on public health issues.
During 2015-16, she was a Robert Wood Johnson Foundation Health Policy Fellow in Residence in Washington, DC, and pivoted her work toward population-level clients. She forged relationships with influential policy groups such as the Brookings Institution, where she is currently a Non-resident Senior Fellow, and the Congressional Black Caucus Foundation.
She also is a member of the American Law Institute and currently serves on several public health boards including the CDC's Advisory Committee on Immunization Practices' COVID-19 Vaccine Working Group, the American Society of Law, Medicine, and Ethics, and the Scientific Advisory Council of the Foundation for Opioid Response Efforts.
Before entering academia, Dean Matthew practiced as a civil litigator both in Kentucky, at the law firm of Greenebaum, Doll & McDonald, and in Virginia, at McGuireWoods, where her work primarily focused on the defense of medical care providers and corporate manufacturers in state courts, federal courts, and before administrative and licensing tribunals.
Dean Matthew graduated with an AB in economics from Harvard-Radcliffe and, after a brief stint as a commercial real estate banker, obtained a JD from the University of Virginia. While studying at Virginia, Dean Matthew served as an editor of the Virginia Law Review, won the law school's William Minor Lile Moot Court Competition, and taught as a Hardy Dillard Writing Fellow. Following graduation, she clerked for Justice John Charles Thomas, the first African American justice to sit on the Virginia Supreme Court. She taught at Virginia as an assistant professor from 1991 to 1994. In 2018, she received a PhD in health and behavioral sciences from the University of Colorado at Denver.
She has written numerous articles and book chapters on health and antitrust law topics that have appeared in the Virginia Law Review, the Georgetown Journal of Law, and the American Journal of Law and Medicine, among others.
Rebecca Cary
Senior Staff Attorney
The Humane Society of the United States
Rebecca Cary is a senior staff attorney at The Humane Society of the United States, where she has worked since 2010 and focuses primarily on farm animal issues. She is a 2009 graduate of Northeastern University School of Law, and a 2005 graduate of the University of California San Diego. She currently co-chairs the DC Bar Animal Law section, and lives in Maryland with her three rescue cats.
Marcia Condoy Truyenque
Animal Law LLM Candidate
Lewis & Clark Law School
Marcia Condoy Truyenque is an Animal Law LLM at Lewis & Clark Law School after receiving a full scholarship from the Center for Animal Law Studies. She is a Peruvian lawyer with work experience in Labor Law and Constitutional Law, and investigative experience in International Law, International Human Rights Law, and Animal Law. Currently, she directs the Animal Law area of Preston+ Law Firm, the first law firm in Peru with a specialized area in this matter. Also, she is Junior Fellow at Global Research Network Animals & Biodiversity Think Tank. She has been a Research Fellow at Ankawa International Human Rights Organization, where she also was Director of the Center for Research and Defense of Vulnerable Populations in 2020. In 2018 she founded Ayllu Vegano to promote veganism in Peru. She has been a correspondent in Peru for the AFADA Argentina Organization until February 2022. Her research focuses on animal dignity, the relationship between human rights and animal rights, and labor rights for animals.
Caitlin Foley
Staff Attorney
Animal Legal Defense Fund
As a staff attorney at the Animal Legal Defense Fund, Caitlin Foley focuses on a range of civil actions including challenges to unlawful agency actions that impact wild and farmed animals, and suits that seek to hold private actors accountable for their neglect of captive animals used for entertainment.
Caitlin graduated in 2010 from the University of Pennsylvania, and in 2016 from the University of Chicago Law School. While earning a law degree, Caitlin also clerked for the Animal Legal Defense Fund.
Prior to attending law school, Caitlin performed disaster relief work and garden-based education as an AmeriCorps volunteer for two years in New York City. Following this, Caitlin spent one year as a college counselor at a Brooklyn public school.
Iselin Gambert
Interim Director and Professor, Fundamentals of Lawyering Program
The George Washington University Law School
Iselin Gambert is a professor of legal writing at The George Washington University Law School (Washington, DC), where she teaches courses in legal communication and rhetoric and a seminar called Gender, Race, Species. In 2018 she co-taught an interdisciplinary course in critical animal studies at Lund University (Sweden). Iselin's scholarship spans multiple fields including language and rhetoric, critical animal studies, critical race theory, food law and policy, and feminist legal theory. She has written extensively about milk; her 2019 Brooklyn Law Review article "Got Mylk? The Disruptive Possibilities of Plant Milk" was identified as a "Notable & Quotable" by the Wall Street Journal. She is a recipient of a 2019 Aspen Words Emerging Writer Fellowship in the category of Personal Essay.
Stacey Gordon Sterling
Animal Law Program Director
Animal Legal Defense Fund
As the Animal Law Program Director at the Animal Legal Defense Fund, Stacey Gordon Sterling builds educational programs for law students to expand and strengthen the cadre of animal law attorneys, advocates, and activists needed to protect animals using the legal system.
Stacey brings her academic background and passion for legal advocacy to the Animal Legal Defense Fund team. She holds a B.A. in English and Creative Writing from Eastern Washington University, a Master of Library and Information Science from the University of Washington, and a JD from the University of Montana. She has received the Ken Shugart Humanitarian Award from the Humane Society of Western Montana, and the Montana Faculty Service Award.
Stacey is a member of the Humane Society of Western Montana legislative committee through which she works on local and statewide animal protection legislation. She is also a member of the State Bar of Montana Animal Law Section, which works to develop Animal Law in all branches of the legal system.
This hybrid in-person and virtual event will feature panels on recent animal law issues before the courts.
REGISTER TODAY
Kathy Hessler
Assistant Dean, Animal Legal Education; Director, Animal Legal Education Initiative
The George Washington University Law School
Kathy Hessler is the inaugural Assistant Dean for Animal Legal Education at George Washington University Law School (GWU), and Director of the Animal Legal Education Initiative (ALEI), working with Joan Schaffner and Iselin Gambert, in a program made possible by generous support from ALDF.
Dean Hessler has been a clinical law professor for 30 years and has been teaching animal law for 22 years. She is the first law professor hired to teach animal law full-time. She received her J.D. from the Marshall-Wythe School of Law at the College of William and Mary and her LL.M. from Georgetown University Law Center.
Dean Hessler helped develop the Center for Animal Law Studies at Lewis & Clark Law School (L&C). For fourteen years she taught there and directed the Animal Law Clinic, which was named one of the top fifteen most innovative clinics in 2015. She also created and directed the Aquatic Animal Law Initiative and is the co-founder of World Aquatic Animal Day along with Amy P. Wilson.
Prior to her work at GWU and L&C, Dean Hessler also taught at Case Western Reserve University School of law, Cornell Law School, University of Dayton School of Law, Capital University Law School, and Georgetown University Law Center.
Dean Hessler also co-authored Animal Law in a Nutshell (with Pamela Frasch and Sonia Waisman), Animal Law – New Perspectives on Teaching Traditional Law (with Joyce Tischler, Pamela Hart, and Sonia Waisman) and the amicus briefs submitted in the U.S. v. Stevens and Justice v. Gwendolyn Vercher cases. She has written numerous law review and other articles and teaches and lectures widely across the U.S. and internationally and is working on a new book, Aquatic Animals; Law, Science and Policy.
Dean Hessler was a board member with the Animal Legal Defense Fund; helped found the Animal Law Committee of the Cuyahoga County Bar; was the chair and a founder of the Animal Law Section and the Balance in Legal Education Section of the American Association of Law Schools (AALS). She was also a co-chair of the Clinical Legal Education Section of the AALS and is on the board of the Center for Teaching Peace, and is a fellow at the Oxford Centre for Animal Ethics.
Amanda Howell
Senior Staff Attorney
Animal Legal Defense Fund
As a staff attorney for the Animal Legal Defense Fund, Amanda Howell uses her background in strategic impact litigation to help us win big for animals. Prior to joining the Animal Legal Defense Fund, Amanda's career was focused on improving the food system and curbing the harmful practices of multinational corporations. She is dedicated to using her skills to combat iniquity and believes that changing how we view and treat animals will simultaneously improve life for all sentient beings and positively impact individual health, public health, and our environment.
Amanda graduated from Northwestern University with a triple major in Political Science, International Studies, and Spanish. She received her law degree from Boston University, where she was the managing editor for the American Journal of Law and Medicine.
Camille Labchuk
Executive Director
Animal Justice
Camille is one of Canada's leading animal rights lawyers and has worked to protect animals for over 15 years. As a lawyer, Camille seeks out cases that enhance the legal interests of animals, expose hidden animal suffering, and result in meaningful policy changes. As an advocate, Camille's work includes documenting the commercial seal kill on Canada's East Coast, exposing cruelty in farming, protecting the free speech rights of animal advocates, and campaigns against ag gag laws, trophy hunting, circuses, zoos, aquariums, shark finning, puppy mills, and more. Camille is a graduate of the University of Toronto Faculty of Law and Mount Allison University. She is a frequent lecturer and media commentator on animal law issues.
Dr. Lori Marino
Founder & President
The Whale Sanctuary Project
Lori Marino is a neuroscientist and expert in animal behavior, intelligence, and self-awareness who was on the faculty of Emory University for twenty years. She is the founder and president of the Whale Sanctuary Project and executive director of The Kimmela Center for Scholarship-based Animal Advocacy. Lori's scientific work focuses on the evolution of the brain and intelligence in dolphins and whales (as well as primates and farmed animals), and on the effects of captivity on wildlife. She has published over 140 peer-reviewed scientific papers, book chapters, and magazine articles. In 2001 she co-authored a groundbreaking study demonstrating the first conclusive evidence for mirror self-recognition in dolphins.
Lori also works at the intersection of science and animal law and policy, having been an expert witness and advisor for several legal efforts for animal rights and protection, including the Nonhuman Rights Project and the Canadian Senate Bill S203, a bill that passed in 2019 banning the keeping and breeding of dolphins and whales for entertainment in Canada. Lori has appeared in several films and television programs, including the 2013 documentary Blackfish, about orca captivity, Long Gone Wild, the 2019 documentary on marine mammal captivity, and the 2021 film Seaspiracy.
Chuck O'Neal
President
Speak Up Wekiva, Inc.
Chuck O'Neal graduated in 1977 from Duke University with two majors – mathematics and public policy. He has a lifelong attachment to Florida's natural resources and beauty. Chuck ran for the Florida Senate in 2016, having previously served as Chairman of the Natural Resources Committee and as First Vice President of the League of Women Voters of Florida. For his work on conservation issues, Chuck has received various advocacy awards as well as the WFTV Cox Conserves Hero Award in 2015. In 2020, he was chosen as a finalist for Central Floridian of the Year by the Orlando Sentinel's Editorial Board.
In May of 2020, Chuck assumed the role of Chairman of the Right to Clean Water Political Committee which campaigned for passage of the Rights of Nature charter amendment among Orange County's population of 1.4 million citizens. On November 3rd, 2020, the Right to Clean Water charter amendment passed with over 89% of the vote. This made Orange County, Florida, the largest municipality in the United States to pass a Rights of Nature initiative.
Rajesh Reddy
Director, Animal Law Program, Center for Animal Law Studies
Lewis & Clark Law School
As the director of the Animal Law Program at Lewis & Clark, Rajesh Reddy helps drive the Center for Animal Law Studies' mission to educate the next generation of animal law advocates and advance the interests of animals through the legal system. To this end, Raj oversees Lewis & Clark Law School's animal law curriculum and in-person and online advanced animal law degree programs, as well as advises its animal law student groups: the Animal Law Review and the Animal Legal Defense Fund Student Chapter. In his role as a professor, Raj teaches International Animal Law and Animal Legal Philosophy, among other courses.
Joan Schaffner
Associate Professor of Law
The George Washington University Law School
Joan E. Schaffner is an associate professor of law at The George Washington University Law School. Ze received BS magna cum laude in mechanical engineering and a JD Order of the Coif from the University of Southern California, and an MS in mechanical engineering from the Massachusetts Institute of Technology.
Professor Schaffner teaches Civil Procedure, Sexuality and the Law, Remedies, and Legislation and Regulation. Ze is the editor-in-chief of the American Intellectual Property Law Association Quarterly Journal and is the faculty advisor to Lambda Law and the GW Student Animal Legal Defense Fund.
Professor Schaffner's current scholarship focuses on animal protection law. Ze has presented on animal law panels and conferences world-wide. Professor Schaffner's most recent work has focused on the compassionate management of free-roaming cats. Ze has presented on the legal implications of community cat management at the Canadian Bar Association Professional Development Joint Conference in Vancouver, BC, Canada; at the National Animal Care and Control Association Training Conference, American Bar Association Shelter Law Symposium, in Virginia Beach, VA; and at the Illinois State Bar Animal Law Conference in Carbondale, IL. Zir publications on this topic include the 2019 article "The Road to TNR: Examining Trap-Neuter-Return Through the Lens of Our Evolving Ethics," co-authored with Peter Wolf; the review article "Cat Wars: The Devastating Consequences of a Dangerous Book," published in September 2018 in the Journal of Animal Ethics; and the article "Community Cats: Changing the Legal Paradigm for So-Called 'Pests'" published in March 2017 in the Syracuse Law Review. Further, ze is the author of Introduction to Animals and the Law, co-author and editor of A Lawyer's Guide to Dangerous Dog Issues and Litigating Animal Law Disputes: A Complete Guide for Lawyers, and author of several book chapters including "Valuing Nature in Environmental Law: Lessons for Animal Law and the Valuation of Animals" in What Can Animal Law Learn from Environmental Law? (2d ed.); "Evolving Perspectives on Captive Wild Animals" in Wildlife Law and Ethics: A U.S. Perspective; "Blackfish and Public Outcry: A Unique Political and Legal Opportunity for Fundamental Change to the Legal Protection of Marine Mammals in the United States" in Animal Law and Welfare: International Perspectives; and "Animal Cruelty and the Law: Permitted Conduct" in Animal Cruelty: A Multidisciplinary Approach (2d ed.).
Professor Schaffner is former chair and newsletter vice-chair of the American Bar Association (ABA) Tort Trial & Insurance Practice Section (TIPS) Animal Law Committee; founding chair of the Association of American Law Schools (AALS) Section on Animal Law; and Fellow of the Oxford Centre for Animal Ethics. In 2019, Professor Schaffner received the ABA TIPS Andrew C. Hecker Memorial Award. In 2018, ze received the Excellence in Animal Law Award: Scholarship-Teaching-Service from the AALS Animal Law Section, and in 2013, ze received the ABA TIPS Excellence in the Advancement of Animal Law Award. Professor Schaffner was selected in 2017 as a Fellow to the American Bar Foundation.
Kathleen Schatzmann
Senior Legislative Affairs Manager
Animal Legal Defense Fund
Kathleen has been a successful leader in animal protection with over 15 years of government affairs and public policy experience. She has successfully managed numerous animal protection initiatives, working in cross-functional roles to create innovative practices to overcome campaign objectives and challenges.
Before joining the Animal Legal Defense Fund, Kathleen worked as NJ senior state director for the Humane Society of the United States where she worked to strengthen animal protection laws on the local, state, and federal level. She has established strong relationships with policy makers and influencers which led to the passage of numerous animal protection laws – including the nation's first ivory ban. Kathleen continues to collaborate with the animal protection community to work in a unified fashion.
Her previous achievements include serving on the Governor-appointed NJ Animal Welfare Task Force, as board member for the NJ Animal Welfare Federation, board member for the Monmouth County SPCA, board member for People for Animals, chair of the New Jersey-based Protecting Animal Welfare PAC, and advisor to NJ Voters For Animals.
Elizabeth Stein
NY Counsel
Nonhuman Rights Project
Elizabeth Stein is the Nonhuman Rights Project (NhRP)'s New York counsel and an NhRP staff attorney. She is a solo practitioner with an office in New Hyde Park, NY, where she focuses exclusively on legal issues pertaining to animal rights, welfare, legislation, and advocacy. Liz holds a J.D. from St. John's University School of Law and a B.S. in German from the State University of New York at Albany where she graduated Phi Beta Kappa and summa cum laude.
Pamela Vesilind
Assistant Professor of Law
Vermont Law and Graduate School
Pamela Vesilind is an assistant professor at Vermont Law School (VLS), offering residential courses in Civil Procedure I and II, Administrative Law, Professional Responsibility, and courses in Animal Law (Law of Animals in Agriculture; Animals & the Law). She has taught and designed courses with the VLS online program since 2012, mostly in the area of food and agriculture. Prior to rejoining the VLS faculty in 2018, Pamela practiced animal law in North Carolina, representing individuals and nonprofit organizations, and focusing on the legal needs of pet owners in underserved communities. She earned an LL.M., with honors, in Food & Agriculture Law at the University of Arkansas School of Law, where she also visited to teach Remedies, Advanced Writing (Civil Pre-Trial Documents), Environmental Law, and Bar Exam Substance & Strategies. Between 2009-2012, Pamela designed and ran 1L programming as assistant director of the VLS Academic Success Program and taught the Animal Law Seminar and Property. After receiving her J.D., cum laude, from Vermont Law School, she clerked for the Vermont trial court in the chambers of the Honorable Dennis Pearson. Pamela's research and scholarship focuses on industrial animal production and the constitutional implications of regulating animal treatment at the federal and state levels. She is licensed to practice in Vermont and North Carolina.
Daniel Waltz
Managing Attorney
Animal Legal Defense Fund
As managing attorney for the Animal Legal Defense Fund, Daniel Waltz develops creative legal strategies to advocate for improved welfare and increased protections for animals. His work focuses on advocating for animals used in factory farming and for wildlife (both captive and wild).
Daniel first worked with the Animal Legal Defense Fund as a litigation fellow from 2012 to 2014. He then went on to spend two years as a staff attorney and teaching fellow at Georgetown University Law Center's environmental law clinic, and two years as a staff attorney at The Humane Society of the United States before returning to the Animal Legal Defense Fund litigation team where he first started.
Daniel has published scholarship in the Animal Law Review, Georgetown Environmental Law Review, and Columbia Journal of Environmental Law. He has a B.A. from Tufts University, J.D. from New York University School of Law, and LL.M in Advocacy from Georgetown University Law Center. Daniel is admitted to practice in Washington State and the District of Columbia.
Stephen Wells
Executive Director
Animal Legal Defense Fund
Stephen Wells is the executive director and CEO of the Animal Legal Defense Fund. Since 1990, Stephen has been a leader in the nonprofit wildlife conservation and animal protection movements.
Stephen grew up in Chicago, where he grew a successful business serving the city's expansive manufacturing and industrial sector. A passion for outdoor adventure led him to sell the business and move to Alaska to be closer to nature. There he worked on the cleanup in the aftermath of the Exxon Valdez oil spill, an experience that convinced him to dedicate his life to protecting the planet's remaining wildlife and wild lands. After serving on the boards of two conservation organizations in Alaska, Stephen was hired as executive director of the Alaska Wildlife Alliance. Under his watch, the organization more than doubled in size, and Stephen became well-known for his work to protect Alaska's native wildlife, particularly its wolves and bears, and their habitats.
Stephen moved to California and joined the Animal Legal Defense Fund's staff in 1999. Almost immediately, Stephen pioneered new strategies to advance animal protection under the law, including launching the organization's law student chapter program and pro bono firm network. Today, the Animal Legal Defense Fund has student chapters in more than 200 law schools, and more than 450 law firms have signed up to donate more than $4 million in legal work to support its mission annually.
Related
Petition urges recordkeeping of all deaths and reporting to the agency every three years from Animal Welfare Act licensees

Following the dismissal of Justice's case upheld on appeal, the Animal Legal Defense Fund continues to seek accountability under the law.

The new poll showing overwhelming support for a horse-drawn carriage ban follows a viral video of an elderly 28 to 30-year-old horse named Ryder collapsing on a New York City street