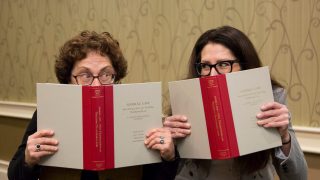 Animal Law—New Perspectives on Teaching Traditional Law
The Animal Legal Defense Fund's very own Joyce Tischler and Pamela Hart recently teamed up with Kathy Hessler and Sonia Waisman to co-author Animal Law—New Perspectives on Teaching Traditional Law, a new legal casebook published by Carolina Academic Press. The Animal Legal Defense Fund is the leader in mainstreaming the teaching of animal law in American law schools. This pioneering casebook is a first-of-its-kind  turnkey approach to incorporating animal law into existing "traditional" law courses  at American Bar Association (ABA) accredited law schools.
This resource is important because law professors often look for new tools to help explain complex legal concepts and inspire their students to better engage in the study of law. While traditional areas of the law experience change over time, a newly created legal area may provide a condensed version of the process by which social debate and legal development interact. The emerging field of animal law has fascinating insights to offer traditional law courses.
Due to the ubiquitous presence and use of animals in our society, animal law overlaps with contracts, criminal law, torts, property, constitutional law, commercial law, wills and trusts, domestic relations, environmental law, evidence, patent, and even tax law –  all relating to the use or protection of animals. For example, someone who abuses a mouse can be charged with cruelty, but anyone can hire a pest control company to kill and remove wild mice from their attic, with no fear of criminal prosecution. The mice in both situations suffer, but the law views and treats them very differently. Using animal law cases enables the professor to provide students with a new lens through which to explore how the law works, and enables us to reach a much larger audience of future lawyers, judges, and other legal professionals.
Furthermore, investigating animal law cases within traditional areas of law fosters an understanding of how the law develops in response to new information and evolv­ing social norms. Should dogs or cats be used in medical research? What sorts of protections should animals raised for food be given? Should elephants be kept in captivity? Animal law cases encourage critical thinking and questioning of the func­tion of certain legal constructs, sharpen our legal analysis, test the law's ability to respond to changing realities, and allow us to clearly see bridges between legal fields and other non-legal disciplines.
For additional information on Animal Law—New Perspectives on Teaching Traditional Law, please click here.
Related
Thank you for your interest in having ALDF file an amicus curiae ("friend-of-the-court") brief. To request an amicus brief, fill out ALDF's request form below. Find more information about ALDF's amicus program here. Javascript is disabled Javascript is disabled on your browser. Please…

Reward for information leading to the arrest and conviction of the person or people responsible

The Animal Legal Defense Fund had a great weekend at the 2018 Animal Rights National Conference in Los Angeles, California.