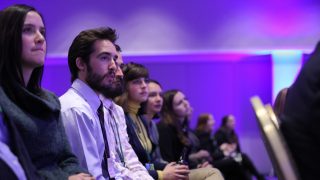 Animal Legal Defense Fund's Student Convention 2020
October 23, 2020 - 9:00 AM
to October 23, 2020 - 16:30
Renaissance Baltimore Harborplace Hotel
202 E Pratt St. Baltimore, Maryland 21202 United States
The fourth annual Student Convention will take place in Baltimore, MD on Friday, October 23rd, 2020!
The Student Convention will provide an opportunity for students to meet and receive career advice from leaders in the animal law field. Students will also have a chance to meet and network with current members of Animal Legal Defense Fund Student Chapters from different schools across the country and beyond.
More details coming soon!
This event is only open to current law students.
Contact Name:
Elaina Gavounas
Contact Email:
events@aldf.org

Related
Animal Legal Defense Fund and American Wild Horse Campaign continue work to ensure wild horses' safety

Three baboons and two macaques removed from Cricket Hollow Zoo are transferred to primate sanctuary, following Animal Legal Defense Fund lawsuit

We've declared it "Stay At Home With Your Dog Day!" (#StayAtHomeWithYourDogDay) and invite you to join us for a friendly photo competition and share photos of your "Office Mutt-Mates" and "Cat Coworkers" working hard (and sometimes hardly working!).