Animal Law Conference Brings International Message to Sold Out Crowd
We recently drew the curtain on the 23rd annual Animal Law Conference, which welcomed a sold out crowd of attendees from across the globe to Lewis & Clark Law School in Portland, Oregon. The conference, a joint project of the Animal Legal Defense Fund, the Center for Animal Law Studies and Lewis & Clark Law School's Student Animal Legal Defense Fund chapter, presented a 2015 program that focused on animal law as an international movement. Experts joined us from Australia, Belgium, Brazil, Canada, China, India, Japan, Kenya, Spain, Switzerland, Vietnam and Zimbabwe to impart the progress and challenges they face in their various countries as they work to protect and improve the laws for animals.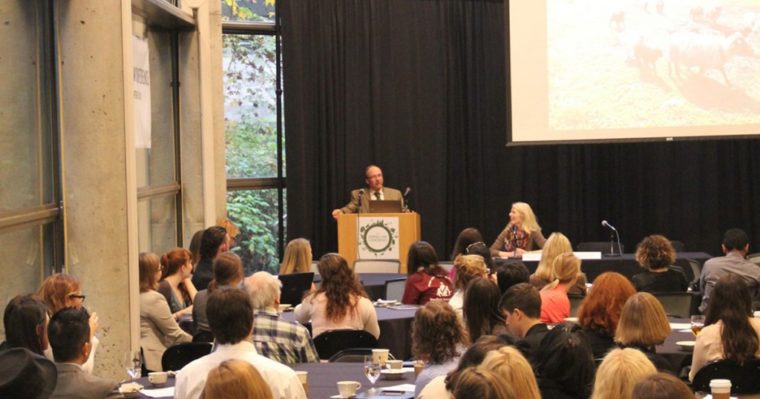 While the conference attracts legal practitioners, academics and non-profit employees, it also continues to grow in popularity with law students. This year over 40% of the attendees were law students and 27 different SALDF chapters received ALDF travel grants to help their members attend. These students had the opportunity to meet at two pre-conference gatherings: a SALDF Summit hosted by ALDF and a SALDF Happy Hour, which led into the Welcome Reception that all conference participants were invited to attend.
The Welcome Reception was capped with an energetic and enlightening keynote presentation by Dr. Alex Bruce, associate professor (and Buddhist monk) from Australia National University College of Law, about the rise of animal law in Australia. Part lecture part comedy skit, Dr. Bruce explored the growth of the field in Australia by highlighting initiatives in the legal, regulatory and academic sectors.
The remainder of the weekend took attendees around the world of animal issues, with a mix of plenaries, panels, roundtables and film screenings to choose from. Apart from litigation, legislation and academic updates we also heard from presenters leading grassroots animal protection initiatives, such as Izzie Lerer, PhD, founder and CEO of The Dodo who is using her online publication to influence meaningful changes for animals through viral media campaigns; Bryce Clemence, a ranger with the Environmental Stewardship Trust at the Savé Valley Conservancy, who trains and leads dangerous anti-poaching expeditions to protect Zimbabwe's vulnerable animals; and Kartick Satyanarayan, CEO and founder of Wildlife SOS, who works tirelessly to rescue and protect India's captive exotic animals and was responsible for ending bear dancing in his country.
We were also treated to an incredibly moving keynote presentation during the Saturday banquet dinner by Jill Robinson, founder and CEO of Animals Asia. Jill led us through the history of her organization, which over the past 17 years has recused over 500 bears from bear bile farms, has worked to end the trade in dogs and cats for food and has helped to improve the welfare of companion and captive animals in Asia. Jill shared both heartbreaking images and heartwarming videos of rescued animals. I doubt there was a dry eye in the house and Jill receive the hero's applause she deserved.
As the conference concluded and everyone went their separate ways on Sunday afternoon, our planning crew was left to relish in the exciting connections we'd made and witnessed over the weekend. With everyone so busy with their personal cast of colleagues and pending task lists, it's important to have a weekend to remember that our work really does extend beyond the scope of our desks, computers and cities. Thank you to everyone who shared this special weekend with us and to the sponsors who helped make this possible: Animal Protection and Rescue League, Texas Humane Legislation Network, Patricia Guter and Lucy Muller. We can't wait to welcome you all back and to form new partnerships and connections at the 24th annual Animal Law Conference! Until the lights go up on next year's event, you can keep in touch and updated on the latest details here.
Liberty Mulkani coordinates animal law events for the Animal Legal Defense Fund and the Center for Animal Law Studies. Apart from her work in animal law, Liberty also holds a M.Ed. in humane education and is the President of the Vancouver Humane Society. Her next big project will take her to Harvard Law School, for the 13th annual National Animal Law Competitions.
Related
Damning evidence presented during proceedings are the foundation of the appeal

Actress Christian Serratos narrates the Animal Legal Defense Fund film advocating for an end to puppy mills

Animal Legal Defense Fund's lawsuit alleged Hormel misleads consumers with its Natural Choice® brand of lunch meats and bacon