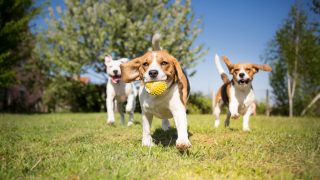 Animal Cruelty Prosecutor Jake Kamins Takes on Oregon Animal Abuse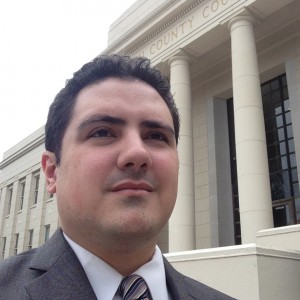 Working behind the scenes and in concert with law enforcement, the Animal Legal Defense Fund has helped secure justice for animal victims in thousands of cases in courts throughout the nation. We've shared with you the harrowing stories of dogs poisoned by meatballs laced with strychnine, kittens burned or thrown out windows, and how we've worked hard to help fund forensic research to build cases against these savage animal abusers. From our National Justice for Animals Week celebrations, where we honor the nation's Top Ten Animal Defenders, to our cohosting of the National Animal Cruelty Prosecution Conference, the Animal Legal Defense Fund is serious about protecting animals from criminal cruelty.
Just last year, the Animal Legal Defense Fund awarded a three-year grant to fund and field the nation's first dedicated, full-time animal cruelty prosecutor. This fully sworn prosecutor—Deputy District Attorney Jake Kamins—is available to handle animal abuse cases for any one of Oregon's 36 district attorneys. Jake's sole responsibility is putting animal abusers on trial, and he is based out of Corvallis, Oregon in the Benton County District Attorney's office. It is a cutting-edge program intended to make sure that no criminal gets off the hook for animal cruelty due to a lack of prosecutorial resources.
Jake knows how important it is to have a dedicated animal cruelty prosecutor. He says, "Animal cruelty cases are technically and factually complex; every animal is different, and I am often dealing with dozens or even hundreds of victims. District attorneys throughout Oregon are facing substantial budget challenges. Focusing one prosecutor's resources entirely on the issues of animal neglect and abuse ensures that these defendants are held fully accountable."
Some of the work Jake has done includes a Polk County, Oregon case, in which more than 200 dead or starving alpacas who were discovered in March 2014—the owners were indicted on animal neglect charges. His other cases include:
State v. Robert Gruntz (Crook County) – In June 2014, Robert Gruntz was convicted by a jury of 10 counts of animal neglect. In 2009, Gruntz ran an investment scam that involved housing racehorses in California and Oregon. He was supposed to ensure that a herd of around 80 horses in Powell Butte got the care they needed. Instead, Gruntz underfed and mismanaged the herd and gave them little to no medical care. The 14 most neglected horses were seized and forfeited. Jake and ALDF helped Oregon State successfully appeal a motion to suppress the case. Sentencing is set for late August; Gruntz faces half a year of jail on each count, and will not be able to own domestic animals or equines for five years. Most of the horses involved were successfully re-homed and rehabilitated (sadly, some had to be euthanized).
State v. Lelani Folden (Yamhill County) – In June 2014, Jake helped convict Leilana Folden of horse neglect after a three day trial and 30 minutes of jury deliberation. Folden had three horses boarded at a stable in Grand Ronde who had been regularly breaking out of their barren pasture to feed. The Sheriff's Office, along with Dr. Barbara Kahl at the United SPCA, evaluated the horses and recommended seizure due to malnutrition. She was sentenced to probation, 200 hours of community service, and has to repay $10,000 in restitution to the United SPCA. She also may not possess domestic animals or equines for five years. United SPCA successfully rehabilitated all three horses and is in the process of re-homing them.
State v. Frank/Cassie Baney (Tillamook County) – In April 2014, Frank and Cassie Baney pled guilty to animal neglect. The Baneys owned several horses in poor condition; one had to be euthanized. The others were seized by the Tillamook Sheriff's Office. Both Baneys were sentenced to 12 months of probation, 80 hours community service, and are required to pay restitution to the Sheriff's Office. Thanks to Jake and ALDF, the seized horses were rehabilitated and re-homed by Linn County Animal Rescue.
Animal Legal Defense Fund Criminal Justice Program Director Scott Heiser—himself a former elected Benton County District Attorney—is delighted with Jake's progress. "When we began this process, I had one goal in mind—to ensure that animal cruelty cases are not among the growing list of crimes that go unprosecuted in Oregon," Scott says. "Jake's work and this position is a model to be implemented in other states." And he notes, Jake's work "engaging with the courts, prosecutors, and local law enforcement, has been overwhelmingly positive."
For Jake Kamins, being the nation's first dedicated animal cruelty prosecutor is challenging but brings its own rewards. "Helping to place neglected or abused animals into loving, stable environments and ensuring that neglectful or abusive animal owners are held accountable" is a big part of that reward. Jake is married with two children and they share their home with an 18-year old cat named Cassie.
Related
Reward for information leading to the arrest and conviction of the person or people responsible for illegally shooting and killing a red wolf in Tyrrell County, North Carolina.

Animal Legal Defense Fund files motion for summary judgement with damning evidence against the university

Animal Legal Defense Fund offers reward for information leading to the arrest and conviction