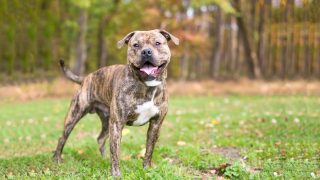 Advancement in Animal Law Pro Bono Achievement Award 2022 Honorees Announced
The awardees helped on several critical Animal Legal Defense Fund cases
Contact: media@aldf.org
WASHINGTON, D.C. — The Animal Legal Defense Fund announced 10 recipients of its Advancement in Animal Law Pro Bono Achievement Award for 2022. The award honors dedicated legal professionals and law firms who help the Animal Legal Defense Fund achieve its mission to protect the lives and advance the interests of animals through the legal system.
The law firms honored with an Advancement in Animal Law Pro Bono Achievement Award include:
Cotchett, Pitre & McCarthy
Dykema
Fenwick & West
Gibson, Dunn & Crutcher
Jones Walker
K&L Gates
Laffey, Leitner & Goode
Michael Best
Orrick, Herrington & Sutcliffe
Sternberg, Naccari & White
"Year after year, we are thrilled with the enthusiasm law firms and legal professionals put toward our important work advancing animals' legal interests and enforcing existing laws in place to protect them," says Animal Legal Defense Fund Executive Director Stephen Wells. "The honorees and all members of our Pro Bono Network allow our work to reach more animals by lending their expertise to our mission — and we are eternally grateful."
More than 100 volunteer legal professionals helped contribute 4,403 total pro bono hours to the Animal Legal Defense Fund's work last year. The honorees chosen for this year's awards assisted on a wide range of cases including a lawsuit against unscrupulous puppy traffickers who knowingly sold sick dogs in Southern California, a lawsuit against a 'rescue' organization for starving and severely neglecting horses in their care, a lawsuit against a Wisconsin roadside zoo for keeping tigers, lemurs, and other animals in squalid conditions, a lawsuit to strike down Louisiana's unconstitutional meat-labeling censorship law, and Ag-Gag challenges including a lawsuit in Kansas where the law was ruled unconstitutional and not taken up for review by the U.S. Supreme Court.
The Pro Bono Network helps in a variety of capacities including legal research, writing legal information guides, filing amicus briefs, litigating cases, and assisting prosecutors with animal cruelty cases.
The Pro Bono Network includes attorneys, paralegals, and law students. To learn more, and receive information about joining, please reach out to probono@aldf.org.
Join the Animal Legal Defense Fund's email list to stay up to date on lawsuits, legislation, and regulations affecting animals.
Sign Up Now
Related
The Animal Legal Defense Fund has helped defend California's right to enact the strongest farmed animal protection law in the country

Proposed rule would maintain an unnecessarily complicated and confusing process for children to get access to plant-based milk

Cows were killed in Madison, Brazos, and Robertson Counties, Texas.