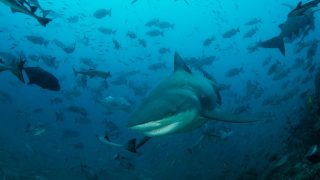 Winter/Spring 2018 New Voices in Animal Law Writing Contest: Laurel Tallent
Laurel Tallent, 3L at Florida State University College of Law, is the winner of our second New Voices in Animal Law Writing Contest!
Laurel Tallent grew up an avid animal lover, constantly wanting to help any animal that she came in contact with. After learning about the travesty that is factory farming, Laurel immediately went vegan but soon realized that was not enough, she needed to do more to help the voiceless. In 2016, she moved to Tallahassee to pursue a law degree from Florida State University College of Law with the goal of working specifically in Animal Law. So far, she has interned with Save the Manatee and Florida Fish and Wildlife. As president of FSU Law's SALDF Chapter, she has helped make SALDF one of the most active and sought out groups on campus. After graduation, Laurel hopes to continue to work on furthering animal law and animal rights, both professionally and in her personal life.
---
Swimming in the Right Direction – Animal Cruelty to Sharks in Florida
I grew up in a small town off the Gulf Coast of Florida. Like life in most Gulf towns, the weekends were spent on the water. "I'd rather be fishin'" is a bumper sticker seem more often than not and boating is not a pastime, it's more of a way of life. People spend their mornings, afternoons, and entire weekends out on their boats catching everything from small fish to large sharks. I remember spending countless hours on the back of the pontoon boat playing with the dog while my dad spent his day fishing for black tip sharks off the front.
I never understood fishing, though. It always seemed cruel. Fish are often thrown on ice to die, cut open and gutted alive on the boat, or thrown back in with wounds inside their mouths as "catch-and-release." Yet these cruel acts are never questioned. Kids are taught to fish from a young age and there is often a disconnect between how locals view fish and how they view land animals. Fish are not furry, they're not cuddly, we can't hear them, and we barely see them. When I would ask fishermen why they don't find fishing to be cruel, I'd often hear responses like "Fish don't feel pain," "fish are dumb," and "fish can't remember what happened to them." This couldn't be further from the truth.
People in my hometown cared about cruelty towards manatees, but never the fish who surrounded them. However, this year something happened about an hour away from my hometown that changed this. Three men were charged with animal aggravated cruelty for dragging a shark behind their boat and from there, a new precedent was set.
It all started when Mark "The Shark" Quartiano, a celebrity shark hunter in Miami, shared a video of a shark being drug behind a boat while still alive.[1] The video showed three men pointing and smiling as the shark, who was tied by his tail, was dragged behind the speeding boat.[2] The shark twists and flops in the boat's wake throughout the video, struggling to get free. The men also posted pictures of the shark's mangled body that was taken afterwards. Quartiano said that he was shocked and horrified by the video:[3] "I don't know what they expected me to do. Laugh it off and say "nice work"? Oh no, that's not me," Quartiano said. "I've killed tens of thousands of sharks but not tortured them, not inhumanely and not disrespected them like that."[4]
To consider a mere charge against an individual a "win" may seem like a bit of stretch. However, animal cruelty charges to fish are few and far between. First the federal Animal Welfare Act ("AWA") excludes poikilothermic (cold-blooded) animals.[5] Second, the Florida animal cruelty statute defines animals "…to include every living dumb creature…" and defines the words "torture," "torment," and cruelty" as to "…include every act, omission, or neglect where by unnecessary or unjustifiable pain or suffering is caused, except when done in the interest of medical science, permitted or allowed to continue when there is reasonable remedy or relief."[6]
Although cruelty to sharks would not be included under the AWA, it could fall under state law! This, however, has never been done in Florida until this case. The fact that what happened to this shark drew outrage not just from animal advocacy groups, but also people from fishing and hunting backgrounds like Quartiano, was remarkable. It seemed like every group was coming together and agreeing that this treatment was wrong.
Florida governor, Rick Scott, even spoke out encouraging the Florida Fish and Wildlife Conservation Commission to review fishing regulations to ensure that such inhumane acts are strictly prohibited.[7]
It's also important to remember that these men were not turned in by an eye-witness. They were not caught by Florida Fish and Wildlife while pulling the shark by his tail. Instead, they were found through people sharing the video and photos posted to social media. They were charged with aggravated animal cruelty, which is a third-degree felony in Florida. This says a lot about the changing views of animal cruelty and the power of social media.
Within five months after the video surfaced, the three men were identified, found, and charged. Florida Fish and Wildlife Chairman, Bo Rivard, stated "As we've said since this video and other images came to light, these actions have no place in Florida where we treasure and conserve our natural resources for everyone."[8]
Fish are interesting and intelligent animals who deserve the same ideals that we give to cute and cuddly animals, such as dogs, cats, horses, and birds among others. As mentioned previously, the AWA automatically excludes fish due to being cold-blooded. Fish don't deserve to suffer merely because their body heat is regulated by their surroundings. Scientific studies have shown that fish have memories, they have friends, they can create symbiotic relationships, and they are intelligent. They do deserve protection under the law. They deserve society's compassion.
At the Florida State University College of Law, I am part of our Animal Legal Defense Fund student chapter. In February, I hosted a meeting to discuss animal cruelty regarding fish. During the presentation, I discussed this shark case and the fact that it was going to trial. I expected a lot of push-back from students supporting fishing since it's so engrained in Florida culture. However, the amount of support that this talk received was amazing. Students were also outraged and asked more about Florida's animal cruelty statute. Once again, I was reminded that our compassion for fish is growing.
In addition, about a month later, our Animal Legal Defense Fund student chapter hosted attorneys from the Hillsborough County Attorney's Office to discuss its Animal Abuse Registry. During this meeting, they mentioned the shark case and stated that it was a possibility that the three men charged could be added to the registry if they are found guilty on the felony charges! I found this as an amazing step forward in protecting animals everywhere.
After this video was shared, other videos and posts have risen regarding harassment to aquatic animals. Unfortunately, most of these videos will not amount to charges for various reasons. However, the fact that they could possibly result in charges and are being taken more seriously is phenomenal. This shark case shows that society will need to rethink the way that they treat fish in the future, as everyday people are viewing countless videos and photos on social media, questioning what abuse looks like and defining their own morals in that regard.
The court case is still on-going, but charging anyone with felony animal cruelty regarding wildlife – let alone a wild shark – is something that I would have never imagined seeing close to my home town. This is why I believe that this case is the most inspiring "swim" forward in animal law. So many acts are unregulated outside of size and net laws for fish, especially regarding catch and slaughter. Fishing happens every day here in Florida and as long as I can remember, people would never think a second thought about it. To know that there can be repercussions for those who mistreat fish is inspiring. Furthermore, the fact that the video moved so many people around the country, especially an avid notorious shark hunter, to speak out regarding the cruel treatment of this shark gives me hope for a better future for all animals.
[1] Peter Martinez, CBS News, Officials Charge 3 Men Linked to Shark Dragging Video Incident, https://www.cbsnews.com/news/shark-dragging-video-men-charged-florida, December 13, 2017.
[2] Sara Nealeigh, Miami Herald, Shark 'Beer Bong' Video Prompts Florida Officials to Expand Investigation, http://www.miamiherald.com/news/local/environment/article164247422.html, July 28, 2017.
[3] Jenny Staletovich, Miami Herald, Angler in Shark-Dragging Video Has History of Posting Troubling Wildlife Photos, July 26, 2017.
[4] Id.
[5] 7 U.S.C. § 2131 (1966)
[6] F.S. 828.02
[7] Craig Pittman, Tampa Bay Times, Shark Dragging Video Case Results in Three Arrests, Dec. 12, 2017.
[8] Carli Teproff, Miami Harold, Notorious Shark-Dragging Videos Results in Three Florida Men Facing Animal Cruelty Charges, Dec 12, 2017.
Related
Animal Legal Defense Fund asserts USDA allows Perdue Farms and others to misleadingly represent factory farmed animals in pastoral imagery

In a letter to the USDA, the Animal Legal Defense Fund and others explain the zoo has repeatedly violated standards of the Animal Welfare Act

Animal Legal Defense Fund offers reward for information leading to the arrest and conviction of the person or people responsible for binding an alligator in Seminole County, Florida