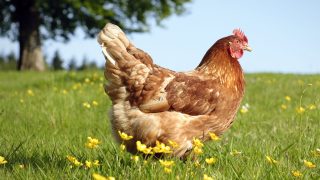 Upgrading Standards for Egg-Laying Hens (Massachusetts)
An Act to Upgrade Hen Welfare and Establish Uniform Cage-free Standards (S.2481)
Improves conditions for egg-laying hens by mandating that they be able to engage in certain vital natural and expands coverage to hens whose eggs are used for egg products commonly used by cafeterias and fast food chains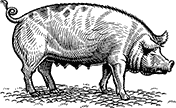 Farmed Animals
In 2016, Massachusetts voters overwhelmingly passed what, at the time, was the strongest law for farmed animals in history, An Act to Prevent Cruelty to Farm Animals, known as Question 3, which will take effect in 2022. In the years since it was passed, leading retailers, producers, and other states, including California, Colorado, Michigan, Nevada, Oregon, Rhode Island, Utah, and Washington have established even stronger cage-free standards for egg-laying hens.
An Act to Upgrade Hen Welfare and Establish Uniform Cage-free Standards (S.2481) would upgrade conditions for egg-laying hens to mirror this new standard by mandating access to enrichments that allow the birds to engage in certain vital natural behaviors, including perching, nesting in boxes, and dust bathing. These enrichments vastly improve hen welfare.
Ask your state legislator to support legislation that would upgrade conditions for egg-laying hens by mandating access to enrichments that allow engagement in vital natural behaviors.
Take Action
Additionally, this legislation would maintain the 1.5 square feet of usable floor space per bird for floor-based cage-free barns that passed in Question 3 and establish a new standard of 1.0 square feet of usable floor space per bird for a type of cage-free housing known as an "aviary." Aviaries were popularized subsequent to the 2016 election and they allow birds to utilize floor space as well as additional vertical spaces, including ramps and elevated platforms. Because the birds are utilizing all aspects of the barn above the ground—like the ramps, perches, and different levels—the space per-bird on the ground does not need to match cage-free barns where the birds are only on the ground. Hens would typically fly high up into the trees to seek safety and to roost at night. Hens show a preference for high perches and roosts, so this vertical space is particularly important.
This legislation would also expand the application of the cage-free standard and mandated enrichments to even more hens whose eggs are sold in the Commonwealth. The current law, as passed in 2016, covers whole eggs in the shell—those typically sold in cartons. This legislation would update the covered products to also include the egg products typically used in cafeterias and by fast food chains (e.g. liquid and frozen eggs). These additional types of eggs represent roughly 30% of egg production, meaning many more egg-laying hens will benefit from improved cage-free conditions if this legislation is passed.
The legislature has the opportunity to upgrade the 2016 law, bringing it in line with the new — stronger — minimum welfare standard for egg-laying hens and expanding its application to additional egg products. This upgrade has the support of both the leading Question 3 proponents and opponents from the 2016 campaign.
This legislation is sponsored by Representative Dan Cahill (D-10th Essex) and Senator Jason Lewis (D-5th Middlesex). It was referred to the Joint Committee on Environment, Natural Resources and Agriculture and heard on May 4, 2021. The Committee released a redrafted version on June 10, 2021, with a favorable report. The redrafted version of this legislation, which incorporated friendly amendments, was referred to the Senate Committee on Ways and Means. Senate Ways and Means released a redrafted version on June 21, 2021, with a favorable report. It was passed by the Senate on June 24, 2021.
This legislative upgrade to Question 3 has broad support from the animal protection community, including the Animal Legal Defense Fund, the Massachusetts Society for the Prevention of Cruelty to Animals (MSPCA), Animal Rescue League of Boston, and Humane Society of the United States; from egg producers in the Commonwealth and the egg industry, including the New England Brown Egg Council, the United Egg Producers, and Massachusetts Food Association; as well as the Attorney General, who is responsible for promulgating regulations and enforcement.
If you live in Massachusetts, please take action to support this bill.