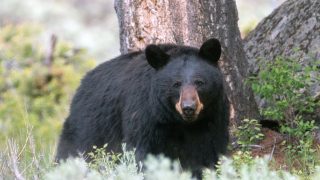 Protect Wildlife with Safe Crossings (Massachusetts)
Wildlife Crossings Project Provision of the Transportation Bond Bill (SEC 40 of H.5151)
Requires study of the feasibility of and creating an action plan for wildlife crossings projects in the Commonwealth

Wildlife
Signed into law by Governor Charlie Baker (R) on August 10, 2022, the Wildlife Crossings Project provision of the Transportation Bond Bill (SEC 40 of H.5151) will help protect wildlife and public safety with wildlife crossings. This legislation facilitates collaboration between the Massachusetts Department of Transportation and the Executive Office of Energy and Environmental Affairs in studying the feasibility of and creating an action plan for wildlife crossings projects. Wildlife crossings — like overpasses and underpasses — create safe road crossings to protect wildlife, improve public safety, save state costs, increase biodiversity, and improve climate resiliency.
Nationwide, there are approximately one million wildlife-vehicle collisions per year. In addition to the animal's suffering that can result from these collisions, there may also be a significant cost to the state in the form of removal and disposal or wildlife rehabilitation. Establishing wildlife crossings would prevent the death of thousands of animals each year and protect people from injuries and fatalities, especially from collisions that involve deer, bear, or other large animals.
Approximately 86 million Americans participate in some form of wildlife viewing, spending $75 billion on expenses related to these activities in 2016. Establishing safe wildlife corridors will help facilitate related recreational activities that bring enjoyment to residents and attract tourists.
Additionally, wildlife crossings and other forms of habitat connectivity could be key in ensuring more diverse and climate resilient habitats. Ensuring species' access to their full preferred home ranges can help build climate resilience and improve biodiversity. Wildlife crossings, such as bridges, tunnels, and culverts with enough capacity to mitigate flooding, can also improve resiliency to extreme weather.
The Wildlife Crossings Project provision was filed as an amendment to the Transportation Bond Bill by Sen. Mike Moore (D-2nd Worcester) — a former Massachusetts Environmental Police officer. The House and Senate enacted the bill on the last day of the 2021-22 formal legislative session (July 31, 2022), and Governor Charlie Baker signed this provision of the bill into law on August 10, 2022.
The Animal Legal Defense Fund thanks Gov. Baker and Sen. Moore for helping protect Massachusetts wildlife. To learn more about Massachusetts's animal protection laws, visit aldf.org/Massachusetts.
Join the Animal Legal Defense Fund's email list to stay up to date on lawsuits, legislation, and regulations affecting animals.
Sign Up Now