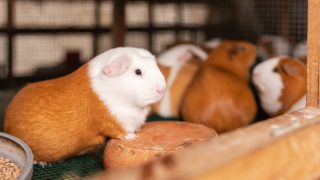 Ordinance to Prohibit the Sale of Guinea Pigs in Pet Shops (Boston, Massachusetts)
Docket #0626
Would expand the city's existing ban on the pet store sale of commercially bred dogs, cats, and rabbits to additionally include guinea pigs

Companion Animals
Boston City Councilor Liz Breadon (D-9) has introduced an ordinance, Docket #0626, that would expand the city's existing ban on the pet store sale of commercially bred dogs, cats, and rabbits to additionally include guinea pigs.
In 2016, Boston passed the "Puppy Mill Bill," an ordinance that closed the puppy-mill-to-pet-store pipeline by prohibiting the sale of commercially bred puppies, kittens, and rabbits in retail pet stores. Championed by former City Councilor Matt O'Malley (D-6), the Puppy Mill Bill allows pet shops to partner with shelters and rescue organizations to make adoptable animals available in store.
Now, the Boston City Council is considering an expansion to this existing retail pet sale ban to address the growing number of guinea pigs in need of adoption in the city. According to the Massachusetts Society for the Prevention of Cruelty to Animals (MSPCA), there has been a 64% increase in the intake of guinea pigs at its facilities over the past decade. The MSPCA has also reported that a majority of recently surrendered guinea pigs were originally purchased at pet stores. Unfortunately, guinea pigs take nearly twice as long to adopt out of the MSPCA's shelters as dogs or cats, according to the organization.
Local laws addressing the commercial sale of guinea pigs have already been adopted elsewhere in Massachusetts. In 2017, the Cambridge City Council passed a landmark ordinance, introduced by Councillor Marc McGovern (D), that prohibits pet store sale of mammals, birds, reptiles, amphibians, and arachnids in Cambridge, unless the animals come from a shelter or rescue group.
The Animal Legal Defense Fund strongly supports this expansion to the existing retail pet sale ban and is grateful to Councilor Breadon for leading this effort.
If you live in Boston, please urge the City Council to support the ordinance to prohibit the sale of guinea pigs in pet stores (Docket #0626).
To learn more about animal protection in Massachusetts, visit aldf.org/massachusetts.
Join the Animal Legal Defense Fund's email list to stay up to date on lawsuits, legislation, and regulations affecting animals.
Sign Up Now