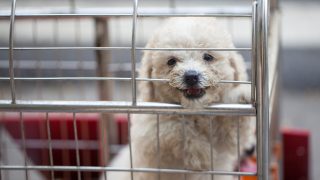 Oppose: Bill Would Undermine State's Retail Pet Sales Ban (Illinois)
An act concerning regulation (H.B. 4643)
Would jeopardize an important humane reform and once again enable pet stores to sell commercially bred puppies and kittens.

Companion Animals
Status
We are thankful that the harmful bill, H.B. 4643, did not pass in this year's legislation session.
In 2021, state lawmakers passed the Humane Pet Store Law, making Illinois the fifth U.S. state to prohibit the retail sale of puppies and kittens.
Retail pet sales bans are important humane reforms, protecting animals from the cruelty of commercial puppy and kitten mills, which source the vast majority of animals sold in pet stores.
Illinois' Humane Pet Store Law, which goes into effect in February 2022, will help protect animals from inhumane treatment in commercial breeding facilities. At the same time, it will encourage pet stores to partner with animal shelters and rescue organizations to offer rescued animals for adoption.
Animals bred in puppy and kitten mills often face significant health and behavioral problems as a result of the conditions in these facilities. Meanwhile, animals used for breeding in mills may spend years confined in tiny cages, denied proper veterinary care or the ability to run, play, or socialize. When they are no longer viewed as profitable, they may be abandoned or even killed.
The Animal Legal Defense Fund opposes H.B. 4643, which would undermine the Humane Pet Store Law and once again enable Illinois pet stores to sell commercially bred puppies and kittens.
Learn more about the Animal Legal Defense Fund's work protecting animals from puppy mill cruelty.
To find more information about Illinois' anti-cruelty laws and additional opportunities to take action for animals in the state, visit aldf.org/illinois.