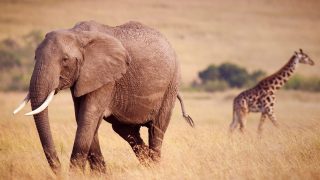 Combatting Wildlife Trafficking (Connecticut)
An Act Prohibiting The Import, Sale And Possession Of African Elephants, Lions, Leopards, Black And White Rhinoceros & Giraffes
Restricts the import, possession, sale, and transportation of body parts of the "Big Six" African species

Wildlife
Wildlife trafficking abroad does not exist in a vacuum. It concerns every link in the trade chain, from the countries where the animals live, to transit points, to marketplaces — including markets in states across the U.S. Connecticut Governor Ned Lamont signed into law the state's wildlife trafficking bill, An Act Prohibiting The Import, Sale And Possession Of African Elephants, Lions, Leopards, Black Rhinoceros, White Rhinoceros And Giraffes (). Twelve other states and Washington DC have similar wildlife trafficking laws, which close their legal markets for certain wildlife parts and products that otherwise fuel demand and allow traffickers to launder illegal wildlife parts products.
SB 925 largely bans the import, possession, sale, and transportation of body parts of the "Big Six" African species, including African elephants, lions, leopards, black rhinoceros, white rhinoceros and giraffes, in Connecticut. This will limit Connecticut's contributions to the global poaching crisis and remove the incentive for trophy hunting these iconic species. Trophy hunters often pay tens of thousands of dollars to kill wild animals and bring parts of their bodies back as "trophies." SB 925 removes the incentive for trophy hunters to kill these iconic species.
SB 925 includes exemptions for possession of covered wildlife species, body parts, and products if possessed prior to the effective date and a timely certificate of possession is obtained from the Commissioner of Energy and Environmental Protection, for collection by a museum or an educational or scientific institution, and for inheritance by an heir or beneficiary so long as they do not subsequently sell or trade the specimen and a timely certificate of possession is obtained. SB 925 does not apply to the import, possession, sale, and transport of ivory; the import, transport, and possession of a live Big Six African species by zoos or circuses, or the transportation, purchase, exhibition, or use of any animal in the production of movies, television, or digital media. The full description of these exemptions and limited applications are described in the .
Senate Majority Leader (D-25th) and the Environment Committee introduced SB 925. It was co-sponsored by Representatives Bobby G. Gibson (D-15th), David Michel (D-146th), Anne M. Hughes (D-135th), Mitch Bolinsky (R-106th), Nicole Klarides-Ditria (R-105th), David K. Labriola (R-131st), Lucy Dathan (D-142nd), Dorinda Borer (D-115th), Michael A. Winkler (D-56th), John "Jack" F. Hennessy (D-127th) and Senator Derek Slap (D-5th). The bill was signed into law by the Governor Ned Lamont on June 16, 2021 and takes effect on October 1, 2021. The Animal Legal Defense Fund is grateful for the support from animal advocates, elected officials, and the broad coalition of organizations supporting this bill in Connecticut.
Learn more about trophy hunting.
Join the Animal Legal Defense Fund's email list to stay up to date on lawsuits, legislation, and regulations affecting animals.
Sign Up Now