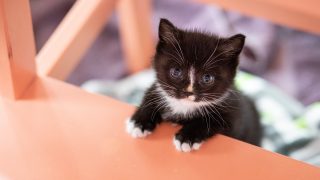 Cat Declawing Ban (Virginia)
H.B. 1382

Companion Animals
Declawing is a permanent, surgical procedure in which all or part of the last bone in a cat's toes is amputated. It can have lifelong medical implications and stops a cat from exhibiting natural behaviors.
This highly invasive surgery is banned in over 10 major cities, as well as the states of New York and Maryland. In Delaware, landlords are prohibited from requiring tenants to have their cats declawed.
If passed, the Virginia bill would:
prohibit anyone from performing a declawing procedure on a cat unless the procedure is necessary for a therapeutic purpose, in which case it may only be performed by a veterinary practitioner;
specify that a violation of the act is a civil offense; and
establish a penalty of $500 for the first violation, $1,000 for the second violation, and $2,500 for the third or any subsequent violation.
Because of the risk to the cat's well-being and the behavioral issues that can result from declawing, the procedure is not fully condoned by any veterinary medical association. The American Animal Hospital Association, the Humane Society Veterinary Medical Association, the Canadian Veterinary Medical Association, and the Association of Feline Practitioners have all stated opposition to the practice as an alternative to relinquishment, and the American Veterinary Medical Association strongly advises against it.
The Animal Legal Defense Fund strongly supports H.B. 1382, which was introduced by State Delegate Wendy Gooditis (D-10).
To find more information about animal-friendly legislation in Virginia, visit aldf.org/virginia.
Join the Animal Legal Defense Fund's email list to stay up to date on lawsuits, legislation, and regulations affecting animals.
Sign Up Now