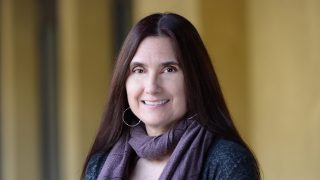 Paula Mullen
Senior Executive Administrator
As the Animal Legal Defense Fund's Senior Executive Administrator, Paula Mullen is responsible for the management and oversight of all administrative activities of the Executive Director's office and the Board of Directors.
Paula has been involved in the animal protection and animal welfare movements for over 30 years and was formerly with the Marin Humane Society and the Santa Cruz SPCA. After many years on the front lines of animal sheltering, Paula joined the Animal Legal Defense Fund because of the organization's ability to strike at the roots of the problems facing animals. Her eloquent article "Why I Am Vegan" placed second in a Marin Vegetarian contest (judged by Howard Lyman) and was republished in the Encyclopedia Britannica of Advocacy for Animals. She is especially passionate about alleviating the suffering of farmed animals, preserving our oceans' wildlife, ending dog fighting, eliminating companion animal overpopulation, and protecting animals abused in research.
Paula and her rescued German Shepherd, Mosa, live in the Sierra Foothills of Northern California, on the same property as her parents and their (very energetic) Australian Shepherd, Scooter. Mosa was displaced after the 2017 Sonoma County fires but seems to enjoy living on five acres with a pool, grandparents, a young dog she can boss around, and a mom who adores her. When not working, Paula enjoys spending time with her family, bird- and other wildlife-watching, hiking, and just enjoying life with Mosa.