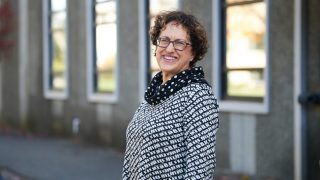 Joyce Tischler
Animal Legal Defense Fund Founder
Joyce Tischler, affectionately known as "the Mother of Animal Law," is the co-founder of the Animal Legal Defense Fund and was Animal Legal Defense Fund's executive director for twenty-five years. She has been called a visionary, a leader, an inspiration, and a role model–she is that and so much more. She's also an exceptional attorney.
Joyce Tischler has devoted her career to the development and advancement of animal law. When she began, there was no field of animal law: no animal law courses, no animal law programs, and no animal law nonprofits. Joyce decided to change that.
Animals have always been a very important part of Joyce's life. As soon as her parents allowed her to walk around the block, she was bringing home cats and injured birds. A sheltie she named Princess Fox was adopted by her family when Joyce was nine years old and became Joyce's soul mate for thirteen years. As Joyce reached adulthood and thought about her career, there was no obvious fit for animals. But in college, she helped run an ad-hoc cat shelter on campus, while working towards her BA in Political Science from Queens College of the City University of New York.
In law school, the only law review article she wanted to write was about legal rights for animals (one of the very first to address this issue). Her article, "Rights for Nonhuman Animals: A Guardianship Model for Dogs and Cats," received dramatic response from her professors and colleagues and continues to influence the greatest philosophers in animal law today. She earned her JD from the University of San Diego, where she was also a member of the San Diego Law Review, Steering Committee on Women in the Law, and Environmental Law Society.
As a young lawyer working for a Bay Area law firm, Joyce began doing volunteer work for the Fund for Animals, through which she met Laurence Kessenick, a partner in a San Francisco law firm who shared her desire to protect animals and establish their legal rights. In 1979 they decided to see if anyone else shared their interest; they advertised in the local legal newspaper and at the first meeting, six other lawyers showed up. That was the start of Attorneys for Animal Rights, which changed its name to Animal Legal Defense Fund in 1984. For the next few years, they met monthly to learn about the state and federal laws relevant to animals and the overwhelming amount of abuse and exploitation that animals endure. Unwittingly, the Mother of Animal Law had given birth to a movement.
In 1981, Joyce filed a case against the U.S. Navy, which had shot and killed over 600 feral burros at its Weapons Testing Center in China Lake, California, and planned to shoot approximately 5,000 burros on successive weekends, starting two days after she had received notice of the killings. Working through the night, Joyce typed on her manual typewriter to piece together a set of pleadings in which she argued that the Navy could not take this action without first preparing a document called an Environmental Impact Statement under the National Environmental Policy Act (NEPA). She boarded a flight to Fresno, California the next morning to argue her case. Thankfully, the judge granted her motion for a Temporary Restraining Order, and she saved the lives of the 500 burros slated to be killed that weekend. For the next eight months, she bargained, negotiated, cajoled and ultimately settled the case, so that not one more burro was killed.
Because of this victory, Joyce's little group received a grant from the Animal Protection Institute, which enabled her to begin to work full-time for the Animal Legal Defense Fund, with a first annual budget of $12,000. She may not have set out thirty years ago with a plan to boldly pioneer and champion a new field of law. But that's just what she did. Joyce quickly realized she was not alone. Her work on behalf of animals struck a nerve with other law professionals who wanted to help animals. She organized meetings and corresponded with attorneys and law students from all parts of the country.
It has been thirty extraordinary years since the case that changed Joyce's life. In that time, Animal Legal Defense Fund has sued to stop bear hunts, mountain lion hunts, the removal of wild horses from federal lands, and challenged the intensive confinement of farmed animals and even the "patenting" of animals. We've assisted prosecutors in numerous cruelty cases, rescued animals from hoarders and saved the lives of many animals, including dogs, cats, birds, chimpanzees, horses and, of course, those beautiful burros.
With her leadership, Animal Legal Defense Fund has filed groundbreaking and major impact lawsuits and laid the foundation necessary for animal law to be taken seriously in law schools, law firms and bar associations across the country. Joyce handled some of Animal Legal Defense Fund's earliest cases, including the previously mentioned lawsuit that halted the U.S. Navy's plan to kill 5,000 feral burros and a 1988 challenge to the U.S. Patent Office's rule allowing the patenting of genetically altered animals. She has tackled such diverse topics as challenges to hunting and trapping using the National Environmental Policy Act (NEPA) and the Endangered Species Act (ESA), enforcement of the federal Animal Welfare Act, standing to sue, animal custody battles, the right to kill animals pursuant to will provisions, landlord-tenant issues and damages and recovery for injury to or death of an animal.
Joyce has encouraged the best and the brightest minds to apply creative legal strategies to help establish greater legal protections for animals. As a result, Animal Legal Defense Fund is recognized for its continual innovation in the field of animal law, from using a little known state law to rescue hundreds of animals from the infamous Woodley dog-hoarders in North Carolina, to the recent release of Ben the Bear from a cruel roadside zoo.
An inspiration to so many activists around the world, Joyce is an internationally recognized speaker and author of numerous publications. In 2009, The American Bar Association Tort Trial & Insurance Practice Section (TIPS) Animal Law Committee honored Joyce with the Excellence in the Advancement of Animal Law Award. In 2010, Joyce was invited on a 12-day, seven-city speaking tour in Australia sponsored by father-daughter team Brian and Ondine Sherman of Voiceless – the Animal Protection Institute. One of her recent publications of influence is her double volume "A Brief History of Animal Law, Part II (1985-2011)," published in the Stanford Journal of Animal Law and Policy. In addition to her many publications, Joyce has been quoted far and wide, including in the New York Times, Science Magazine, Washington Post, USA Today, Christian Science Monitor, the Sydney Morning Herald, Sunday Telegraph, Guardian, and People magazine. She is currently co-writing two animal law books.
Although Animal Legal Defense Fund remains the only specifically animal law-focused organization, today most animal protection groups have lawyers and a legal strategy, something Joyce recommended that they do as early as 1986. In addition, there are now 202 student chapters of the Animal Legal Defense Fund in law schools across the U.S. and internationally, and 167 law schools in the U.S. and Canada now teach an animal law course; 12 animal conferences are held annually, and eight animal law journals are being published. In 2008, Animal Legal Defense Fund entered into collaboration with Lewis & Clark Law School in Portland, Oregon to create the first-of-its-kind Center for Animal Law Studies, which offers students a world class program in which to study animal law.
The future of animal law will include taking our case to the citizens, Joyce says. Consumers can be strong advocates for the animals and we can help them to make healthy and compassionate choices. And, she adds, "I don't eat my clients." Through her strength and humility, her persistent advocacy and clear leadership, Joyce Tischler is a force for change.