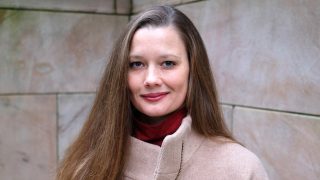 Jessica Chapman
Criminal Justice Program Fellow
As a Criminal Justice Program Fellow, Jessica Chapman works with the department to address crimes against animals, partnering with stakeholders across the criminal justice system to resolve both the impetus and impact of animal cruelty.
Jessica earned a B.A. from the University of California, Berkeley where she double majored in Slavic Languages and Literature and Native American Studies (honors). She earned a J.D. (cum laude) from Michigan State University College of Law, where Jessica received the 2020 Wanda Nash Award from the Animal Law Section of the Michigan State Bar. Jessica earned an Animal law L.L.M. (magna cum laude) from Lewis & Clark Law School. While at Lewis & Clark, she was awarded the inaugural 2021 Outstanding Animal Law L.L.M. Graduate Award and earned placement in the Cornelius Honor Society.
Jessica shares her home with two dogs named Patch and Landa. The brothers enjoy hiking through mountains, camping trips, and discovering the world together.