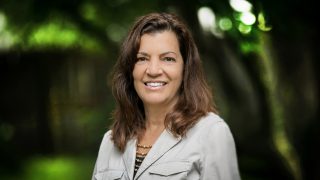 Jayna Sisbarro, CFRE
Philanthropy Manager, Eastern Region
As Philanthropy Manager for the Eastern Region, Jayna Sisbarro partners with supporters across 15 eastern U.S. states who are inspired to make lasting change in animal legal protections.
Before joining the Animal Legal Defense Fund, Jayna served as the Director of Development for Shared Interest, a nonprofit social investment fund working in Southern Africa to reduce poverty and provide financial inclusion to rural communities and entrepreneurs. Jayna is a passionate fundraiser and volunteer for organizations that champion animal welfare, the environment and social justice.  Her fundraising career spans nearly twenty years and includes nonprofits such as GLAAD and Oceana.
Jayna has taught award-winning courses in Leadership and in Public Speaking at Rutgers University and the Fashion Institute of New York. Prior to her career in fundraising, she held senior management and sales positions at a Fortune 500 company.  Jayna has a Master of Science in Organizational Communication from Rutgers University and serves on the boards of Woodlands Wildlife Refuge and South Africa's Credence Institute and the Grant Advisory Committee of the New York Women's Foundation.  Jayna enjoys traveling, hiking and skiing and the outdoors with her son and their two senior rescue dogs, Zulu and Diego.