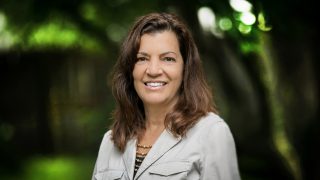 As Philanthropy Manager for the East Coast, Jayna Sisbarro works with individuals from the Northeast to the Mid-Atlantic to the Southeastern regions looking to make a lasting impact protecting animals and in the field of animal legislation.
Before joining the Animal Legal Defense Fund, Jayna served as the Director of Development for Shared Interest, a nonprofit social investment fund working in Southern Africa to reduce poverty and provide financial inclusion to rural communities and entrepreneurs. A passionate fundraiser and volunteer for organizations that champion animal welfare, the environment and social justice, Jayna's earlier background includes more than 17 years of fundraising on behalf of several organizations including GLAAD and Oceana.
Prior to her career in fundraising, Jayna held corporate management, sales and marketing positions as well as taught award-winning courses in both leadership and public speaking at Rutgers University and the Fashion Institute of New York. Jayna holds a Master of Science in Organizational Communication from Rutgers University and serves as board member for Woodlands Wildlife Refuge. She is based in the New York area and enjoys spending time outdoors with her son and their two senior rescue dogs, Zulu and Diego.