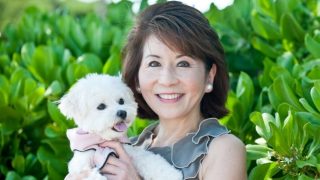 Ginny Tiu joined the Animal Legal Defense Fund board in June of 2021. Ginny was a child piano prodigy, who moved to this country from the Philippines when she was discovered by Ed Sullivan at the age of 5 years old. She has lived a public life since, performing throughout the world. Her professional credits include doing a concert at Carnegie Hall, performing for President John F. Kennedy and President George H.W. Bush, and acting in a movie with Elvis Presley, titled Girls! Girls! Girls!
Ginny's introduction to shelter animals about 14 years ago led to her volunteer career with the Hawaiian Humane Society, where she has served on the Board for over 12 years, including as Board Chair twice, and as a leader in their fundraising efforts. She was instrumental with the shelter's first successful capital campaign, in which they raised $21 million dollars, and is now co-chairing their capital campaign for a second campus.
Ginny also serves on the Board of the Hawai'i Symphony Orchestra (music continues to be very important to her), as well as on the Board of Trustees for the University of Hawaii.
In 2014, Ginny was honored by Maryknoll School with the Monsignor Kekumano Award of Noblesse Oblige: "To whom much is given, much is expected." She passionately believes that and is committed to it. In 2018, she received the Philanthropist of the Year award by the Association of Fundraising Professionals.
In her personal life, Ginny has 10 rescue dogs. She adopts senior dogs and those with special medical needs. She recently said goodbye to Summer, a blind Bichon, who lived with her for 19 years.  Her more recent adoption is a silky terrier named Tulip, a survivor of horrific abuse. Ginny supports the Animal Legal Defense Fund's work because she strongly believes that humans need to be an advocate for animal protection laws. She states, "We must get in front of this with legislation and education or we will be picking up the pieces."