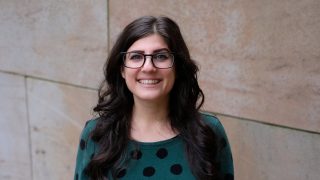 Erica Calderon
Monthly Giving Officer
As the Monthly Giving Officer, Erica Calderon is responsible for developing fundraising strategies that grow the organization's monthly giving program, Partners in Protection, and cultivating relationships with sustainers. In this role Erica works solely with the organization's sustaining donors, creating an optimum sustainer experience and continuing to strengthen the organization's steady stream of monthly revenue to protect and rescue animals.
Erica earned a BA in English Literature and a master's degree in Literary Criticism from Sonoma State University. She brings seven years of nonprofit fundraising experience and her lifelong passion for animal rights to the Animal Legal Defense Fund team.
Based in the East Bay region of California, Erica lives with her husband Jay, three rescue cats named Edgar, Edmund, and Edwardine, and a rescue chihuahua named Clash.