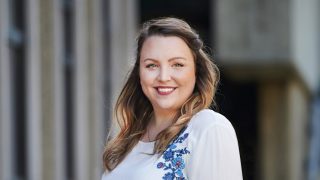 Emma McCapes
Litigation Coordinator
As the Litigation Coordinator, Emma plays a key role in ensuring all administrative operations associated with the Animal Legal Defense Fund's Litigation Program and personnel run smoothly and efficiently.
Emma graduated with a Bachelor's degree in English from University of California, Berkeley. Inspired by her late grandfather's work with the Humane Society of the United States, Emma worked as an intern with the Federal Affairs Department of the HSUS as part of her mission to develop a career in animal protection. Emma was raised vegetarian and grew up in a family that placed an emphasis on fair treatment for animals. In joining the Animal Legal Defense Fund, she puts her passion to work.
Outside of the office, Emma volunteers at a local sanctuary for farmed animals in Santa Rosa where she spends her Saturday mornings playing with goats and petting pigs. These animals reinforce Emma's dedication to a vegan lifestyle.