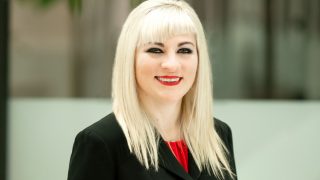 Emily Lewis is the Managing Attorney for the Criminal Justice Program at the Animal Legal Defense Fund. In her previous role of Senior Staff Attorney, she oversaw and triaged case response and worked directly with law enforcement agencies, prosecutors and rescue groups, providing direction and support for all aspects of criminal animal cruelty investigation and prosecution. She supported front-line responders by training and consulting on search warrant drafting, evidence collection and scene processing best practices.
Emily joined the Animal Legal Defense Fund after serving as staff attorney for the Oregon Humane Society Humane Law Enforcement Division, where she directly participated in hundreds of animal cruelty investigations, including the raid of a massive animal-fighting compound, cases involving large-scale neglect of livestock, and all manner of puppy mill and animal hoarder scenarios. It is this firsthand experience that has given her such a deep understanding of animal cruelty casework and prosecution. At the Capital, Emily was integral in the passage of a number of important animal protection bills including stricter laws prohibiting animal fighting, oversight of animal rescue entities, the Humane Agent Bill, increased cross reporting, and strengthening of pre-trial remedies available to animal care agencies or individuals. Emily's work on these bills — along with her implementation of the first legal internship program at the humane society and her support and training of agency officers, staff and veterinarians — contributed to the rise of the Oregon Humane Society as a national leader in the field of animal cruelty investigation and veterinary forensics, in particular. She has presented nationally and internationally on the importance of the veterinarian's role in recognizing, reporting and responding to animal neglect and abuse.
Emily holds a JD and Master of Studies in Environmental Law (MSEL) from Vermont Law School, where she graduated with honors and was awarded the Academic Excellence Award in both Torts and Environmental Ethics. She earned a B.A. in Environmental Ethics & Policy and was awarded the Arthur Schoenfeldt Environmental Ethics and Policy Award from the University of Portland. She is a two time winner of Spot Magazine's "Top Dog: Attorney" award (2014 and 2016).
Emily is passionate about her role as a voice for animals and aiding in the pursuit of justice on their behalf.
Based in Portland, Ore., Emily lives with her rescued Great Dane, Whiskey. She enjoys running, live music, and visiting the Pacific Ocean coastline.