Speaker Bios
The Lone Star State Update on Animal Law 2019
2019 Speakers: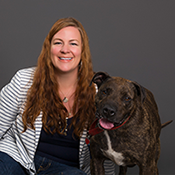 Shelby Bobosky
Shelby Bobosky has been with Texas Humane Legislation Network (THLN) since 2011 in both the Vice President and Legislative Co-Chair roles, and her leadership has taken the organization through two successful legislative sessions. Under her watch, THLN successfully passed both the Anti-Gassing Law (SB 360 passed in 2013) and the Mandatory Canine Encounter Training Law (HB 593 passed in 2015). Ms. Bobosky attended the University of Kentucky for her undergraduate degree, earning a double major in History and Spanish in 1996. She then attended the University of Tulsa Law School and spent a year as a visiting law student at Northwestern University School of Law graduating in 1999. In 1999, Ms. Bobosky moved from Chicago, Illinois to Dallas, Texas, to begin her law practice. For the past sixteen years, Ms. Bobosky has continued practicing general civil litigation until recently when she decided to do only pro bono work putting in hundreds of hours for THLN as well as assisting animal welfare advocates and rescues when possible. Ms. Bobosky was heavily involved in the Dallas Association of Young Lawyers, co-chairing the Animal Welfare Committee for four years and raising thousands of dollars for local 501(c)(3) rescues during her terms. Ms. Bobosky has been Vice President and Board Member with THLN since January 2011. Ms. Bobosky served as the Co-Legislative Chairman for THLN in the 2013 and 2015 sessions. She has traveled thousands of miles with THLN in order to promote its mission. Ms. Bobosky and her husband, three boys and three rescue dogs live in Dallas, Texas.
Joel Hailey
Joel Hailey has a private practice of probate and estate planning in San Antonio. He is actively involved in local and state animal causes, serving as Past Chair and current Council Member of the State Bar of Texas Animal Law Section, Vice Chair of the State Bar Council of Chairs, and member of committees to revise the San Antonio Animal Code. Over the years, Joel has written articles and made presentations at State Bar seminars and other seminars. He is founder and President of The Hailey Foundation, a 501(c)(3) non-profit that promotes saving animals.
Jennifer Hauge
As the Animal Legal Defense Fund's Legislative Affairs Manager, Jennifer is responsible for implementing creative strategies to pass laws that help animals and defend against bills that would hurt them.
A graduate of Northwestern University with a BS in Education and Social Policy, Jennifer also studied Politics, Philosophy and Economics for a year at Oxford University. She began her career in the corporate world while advocating for animals in her personal time. She was a leader in signature gathering for a statewide ballot measure initiative, testified at hearings, lobbied bills in her state capitol and co-founded a vegan advocacy organization in her local community of Salem, Oregon.
She is currently on the board of Humane Voters Oregon and while her passion for helping animals has turned into her full-time career, she still volunteers at local farmed animal sanctuaries. She shares her office with her two rescued shelter dogs – Koa, a 12-year-old shepherd mix, and Zephyr, 5-year-old retriever mix.
Adam Milasincic
Mr. Milasincic is a trial lawyer who has defeated some of the largest companies in Texas on behalf of individuals, small businesses, and many of Houston's top employers. He represents both plaintiffs and defendants in industries as far-flung as energy and hospitality, maintaining a broad practice that has included management of multimillion-dollar contract disputes, partnership break-ups, business torts, mineral lease suits, employment claims, defamation, and wrongful death, among others.
Before joining his current firm, The Ammons Law Firm, Mr. Milasincic was a litigator at AZA Law and before that, at Baker Botts LLP. He received his law degree from the University of Virginia School of Law, where he served as a Virginia Law Review articles editor and earned the highest grades of any student in his first-year class. He also earned the highest score out of the 2,468 applicants who took the July 2011 Texas bar examination, an accomplishment for which he was twice featured in Texas Lawyer.
During law school, Mr. Milasincic interned for Judge Lynn N. Hughes of the U.S. District Court for the Southern District of Texas, and was a member of the law school's Supreme Court Litigation Clinic. Prior to law school, Mr. Milasincic served as the communications director to the Realtors Association of Metropolitan Pittsburgh. While earning his journalism degree from Kent State University, he also worked briefly as a newspaper reporter.
Jessica Milligan
Upon graduating from St. Mary's University School of Law in 2004, Jessica Macklin Milligan practiced civil law in San Antonio. She then began working as an Assistant District Attorney for the Harris County District Attorney's Office in 2006. She is currently the chief of the Animal Cruelty Section, which allows her to prosecute felony animal cruelty offenders, investigate and charge felony and misdemeanor animal cruelty cases, and work on special and legislative initiatives relating to animal abuse. A frequent speaker on criminal law and animal cruelty issues, Jessica lectures at different law schools, law enforcement academies, and animal welfare conferences.
She has held various board positions with the Houston Bar Association's Animal Law Section, where she is will sit as Chair starting in June. Jessica holds a dual bachelor's degree in Marketing and Management from New Mexico State University, a J.D. from St. Mary's in San Antonio, and is a licensed attorney in both Texas and Colorado. She and her husband have three wild boys, a three-legged Border Collie named Hope who is the mascot for the Harris County District Attorney's Office H.O.P.E. (Helping Our Pets through Education) Program, a rescue Chihuahua/Jack Russell and two carnival fish.
Fran Ortiz
Fran Ortiz is a Professor of Law at South Texas College of Law Houston and adviser to the school's Animal Law Clinic. She joined STCLH in 1996 and teaches animal law, environmental law, natural resources management, water law, and property. Before teaching full-time, Professor Ortiz practiced law with the Austin offices of Jones Day and Baker Botts and taught as an adjunct professor at the University of Texas at Austin. Professor Ortiz's research interests lie largely in the areas of animal law, land use, conservation, and endangered species, and she has written several articles and amicus briefs on these issues. She currently serves as chair of the ABA TIPS Animal Law Committee and secretary of the State Bar of Texas Animal Law Section. Professor Ortiz received her J.D. from Harvard Law School and her B.A. from the University of Texas at Austin.
Daniel Waltz
As staff attorney for the Animal Legal Defense Fund, Daniel Waltz develops creative legal strategies to advocate for improved welfare and increased protections for animals. Daniel first worked with the Animal Legal Defense Fund as a litigation fellow from 2012 to 2014 when he participated in Kuehl v. Sellner, which eventually set a legal precedent to protect endangered animals in captivity.
He then went on to spend two years at Georgetown University Law Center's environmental law clinic, and two years as a staff attorney at The Humane Society of the United States before returning to the litigation team where he first started.
He has a B.A. from Tufts University, J.D. from New York University School of Law, and LL.M in Advocacy from Georgetown University Law Center. He lives in Washington D.C. with his wife Casey, and Tippy, their special needs eight-pound rescue dog. When he's not fighting to free animals from harm, Daniel likes to spend time outdoors playing ultimate Frisbee, hiking, or riding his bike with Tippy inside his backpack.
Kathleen Wood
Kathleen Wood began working with Animal Legal Defense Fund's Criminal Justice Program in 2016, first as a clerk and then as a fellow. Now as a staff attorney, Kathleen assists prosecutors, law enforcement, and legislators throughout the country to enforce and strengthen animal protection laws. In this role, Kathleen oversees Animal Legal Defense Fund's annual Animal Protection Laws Rankings Report which compares the various strengths and weaknesses of each state's animal cruelty laws. Kathleen has also been instrumental in the creation of Animal Legal Defense Fund's Farmed Animal Cruelty Prosecution Guides, tailored to individual states, to help prosecutors bring cases against those who abuse farmed animals.
Related
The California Court of Appeals affirmed a ruling by a lower court recognizing Society for the Prevention of Animal Cruelty (SPCA) organizations' ability to file lawsuits against entities that violate existing animal protection laws.

Reward for information leading to the arrest and conviction of the person or people responsible for illegally shooting and killing a red wolf in Tyrrell County, North Carolina.

Animal Legal Defense Fund files motion for summary judgement with damning evidence against the university