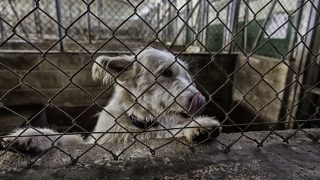 Subpoena Issued to Barbour County Humane Society in Connection with Barbour County Lawsuit
Lawsuit seeks to compel county to maintain a shelter as required by Alabama state law
Contact: media@aldf.org
Clayton, AL – Today, plaintiffs in a lawsuit against Barbour County, Alabama, issued a subpoena to the Barbour County Humane Society, a private shelter in Clayton, Alabama. The subpoena seeks records related to a purported deal between the shelter and county. It is the latest development in a long-running case against the county that has been stalled for nearly a year.
With the help of the Animal Legal Defense Fund, the plaintiffs filed suit against Barbour County in 2016 for its failure to maintain a county shelter or employ an impounding officer. Barbour County does not have an animal shelter despite a state law that requires each county to provide a "suitable county pound and impounding officer" for the impoundment of dogs, cats and ferrets found running at large.
Without a shelter, stray animals are left to languish, resulting in serious animal cruelty and public safety issues. The task of caring for and rehoming stray and abandoned animals thus falls to Barbour County residents, who have neither the resources nor the legal obligation to take on this role. Nevertheless, plaintiffs Renee Klein and Betty Kramer have been picking up the county's slack for over a decade.
On Feb. 13, the Barbour County Commission voted to contract with Barbour County Humane Society for animal sheltering services. Despite repeated appeals, the county failed to provide the plaintiffs with either minutes from the meeting or documents related to the contract, just as the County has failed to provide virtually any information regarding its failed animal control policies during the course of the lawsuit. The subpoena requests, among other things, communications between the local humane society and County regarding contractual use of its impoundment facility, and the performance of animal control services.
Merely stating an intent to contract with an animal shelter does not fulfill the county's legal obligations, particularly after years of non-compliance and repeated failures to follow through on similarly-stated intentions in the past. Barbour County has a long history of claiming it will open a pound without doing so.
15 years ago, the county began construction on a pound, but the project was never completed. In the interim, the Barbour County Commission repeatedly reallocated funds appropriated for shelter construction toward other projects and wasted grant funds the County received specifically for that purpose.
Without a pound, significant numbers of stray and abandoned animals roam throughout the county, endangering public safety and putting the animals at risk of suffering from untreated injuries or illness, starvation or abuse.
"After dragging its feet for over a decade and wasting taxpayer dollars on an incomplete shelter, Barbour County's mere claim that it will open an animal shelter is not enough," says Animal Legal Defense Fund Executive Director Stephen Wells. "We will pursue this case until we are confident that the county is complying with state law by providing residents with a shelter and animal control officer."
Related
Companion, farmed, and wild animals have been lost, injured, or killed during fireworks displays

The California Court of Appeals affirmed a ruling by a lower court recognizing Society for the Prevention of Animal Cruelty (SPCA) organizations' ability to file lawsuits against entities that violate existing animal protection laws.

Reward for information leading to the arrest and conviction of the person or people responsible for illegally shooting and killing a red wolf in Tyrrell County, North Carolina.